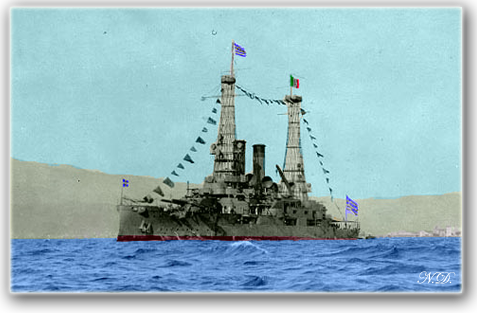 "Limnos" was the pre-dreadnought American Battleship "USS Idaho" (BB-24) that served with the US Navy from 1908 to 1914. At the time, the Turks were strengthening their navy with ex-German ships, which would tip the Aegean naval balance in their favour. To address this, the Greeks hastily bought the "USS Idaho" and her sister "USS Mississippi" for the very high price of $6.3M (33M drachmas) each. Not only they were significantly overpriced, but they were also quite slow and had shallow draft. While they were good enough against the Turkish pre-dreadnoughts, in August 1914 the Turks acquired the Battlecruiser "Yavuz" (ex-German "SMS Goeben") that completely outclassed them.
Operational History
22 July 1914 - Commissioned
1916 - Since Greece has not yet entered WWI, both ships are seized by France along with the rest of the Greek Fleet.
1917 - Both ships are returned when Greece enters the war on the side of the Entente.
1919 - They see action in the Crimean expedition of the Russian Civil War (1919) on the side of the White Russians.
1919-22 - "Limnos" becomes the flagship of the Second Fleet, based in Smyrna, under Rear Adm. G. Kalamidas. Her mission is to patrol the Black Sea, Dardanelles and Asia Minor coasts.
1926-28 - Boiler repairs.
1932 - Decommissioned. Her guns are removed and used as coastal defence battery on the island of Aegina.
1941 - The hulk of Limnos (and Kilkis) is bombed in Salamina by Stuka dive bombers during the German invasion and sinks in shallow waters.
1950s - Her wreck is salvaged for scrap.
Specifications
Mississippi-class Pre-Dreadnought Battleship
Displacement: Full 14,095, Stand. 13,000 tons
Length: 382 ft (116 m)
Beam: 77 ft (23 m)
Draft: 24.7 ft (7.5 m)
Propulsion: Engines: triple-expansion reciprocating engines, Shafts: 2 (twin screw ship), Power: 10,000 hp
Speed: 17 knots maximum
Complement: 744
Armament: 4×12-inch (305 mm), 8×8-inch (203 mm), 8×7-inch (178 mm), 12×3-inch (76 mm), 6×3 pdr, 2×1 pdr, 6×.30 MG, 2×21-inch (533 mm) Torpedo Tubes
Armour: Belt 9in, Turrets 12in, Deck 3in, Conning Tower: 9in

For gamers and game designers
Their natural opponents are the two ex-German Pre-dreadnought Battleships of the Turks (Torgut Reis and Barbaros Hayreddin), which are a bit slower and have weaker guns. The following are some technical details of the guns that would be useful to a game designer:
Range @15-degree elevation: about 20,000 yards
Penetration with 870 lb AP Shell Vs. face-hardened Harvey plates: (6,000 yards) 422mm, (9,000 yards) 310mm, (12,000 yards) 251mm
For modellers



The following images show a 1:6000 "Limnos" and a 1:1800 "Kilkis" model for wargaming.

An award-winning "Kilkis" displayed at IPMS-Hellas 2010: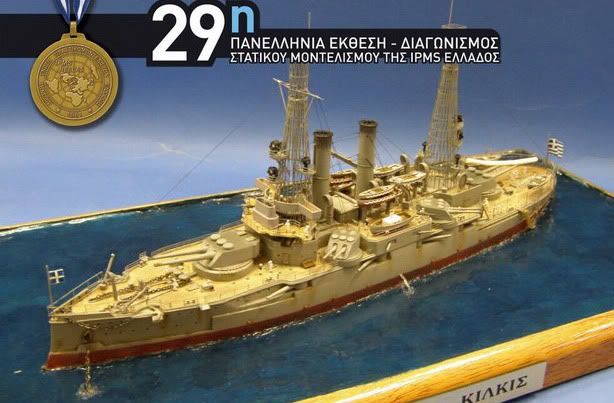 Additional photos of the Battleship Limnos: