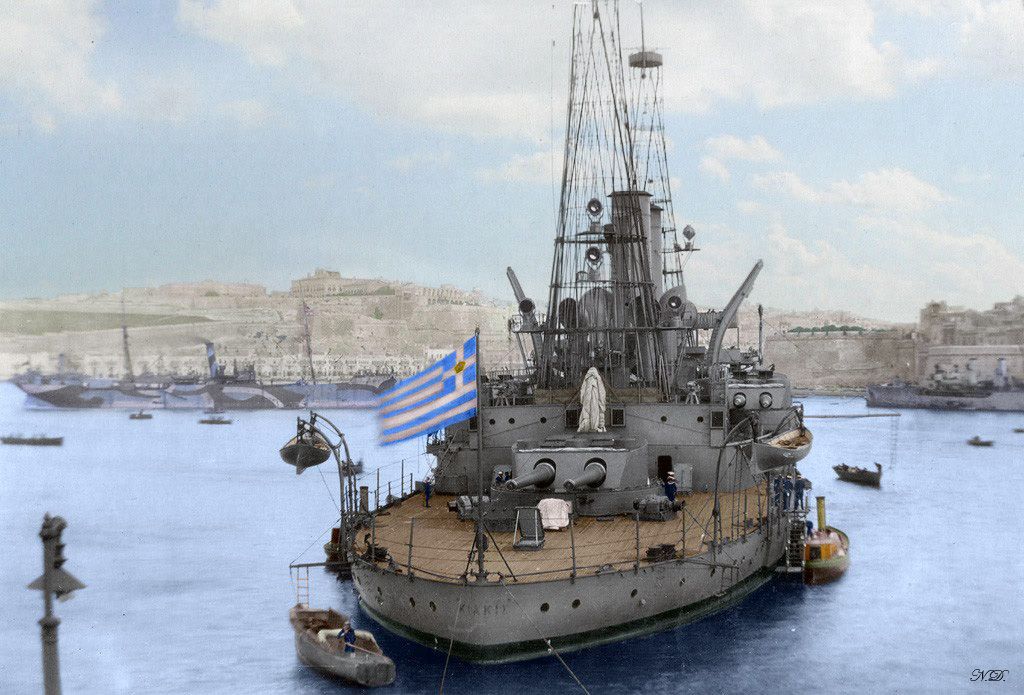 Previously USS Mississippi BB-23, Kilkis was built in 1905 and sold to the Greeks together with her sister
Limnos
in 1914 in an effort to counterbalance the Turkish naval rearmament at the time. After arriving in Greece, Kilkis became the flagship of the Greek Navy.
Operational History
12 May 1904 - Laid down.
30 Sep. 1905 - Launched.
1 Jan. 1908 - Commissioned in the USN as USS Mississippi BB-23.
30 June 1914 - Mississippi and sister Idaho are sold to the Greeks for $12,535,277.
22 July 1914 - Commissioned in the Greek Navy.
19 Oct. 1916 - Seized by the French, reduced to a skeleton crew, with the breech blocks for her guns removed to render them inoperable, and all ammunition and torpedoes removed.
1917 - Even after a pro-Entente government replaces the king and declares war on the Central Powers, Kilkis does not see active service with Greece's new allies, and instead is used solely for harbour defense until the end of the war under Kakoulidis.
1 Nov, 1918 - After the Turkish capitulation in WWI, Kilkis sails to Nikomideia and then Constantinople. 1919 - Takes part in the operations in the Krimean against the Bolsheviks. Then returns to Constantinople to take part in the 1919-22 Greco-Turkish War.
5 May 1919 - Kilkis and a pair of destroyers escort a convoy of six troop transports to Smyrna, where the soldiers are disembarked. The Ottoman Navy cannot provide opposition because it has been interned by the Allies after the end of World War I.
3 June 1920 - Despite in the middle of a war with the Turks, Kilkis leaves the theatre to represent Greece during the Fleet Review in Spithead in honour of King George V.
July 1920 - Kilkis and a pair of destroyers escort a convoy carrying 7,000 infantrymen, 1,000 artillerists, and 4,000 mules to Panderma.
Aug. 1922 - Kilkis and Limnos support the Greek Army's retreat. They then both sail to Chios instead of covering the Greek population during the Catastrophe of Smyrna.
1926 - 1928 - Kilkis undergoes repairs and upgrades. It has her boilers re-tubed. An ambitious plan to upgrade her against Turkish Yavuz does not even start.
29 Nov. 1929 - The Greek navy announces that Kilkis will be withdrawn from service and broken up for scrap.
1930 - Averof becomes the Greek Navy's flagship.
1931-32 - Kilkis is withdrawn from active service and becomes a training ship.
1935 - She becomes a training ship for anti-aircraft gunners.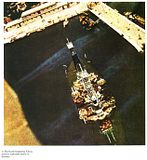 1940-41 - She is used as a floating Anti-air battery and bunker. Spare guns are used as coastal batteries around Greece.
23 Apr. 1941 - Sunk by German Stuka bombers in Salamis. According to Parramore et al., she attempts to get underway to evade the attacks but is hit by three bombs and succumbs. Later the Germans will cut the masts and stacks.
1947-49 - Salvaged by Organismos Anelkysis Navagion (OAN) and broken.


Specifications
Mississippi Battleship "Kilkis"
Displacement: Full 14,697 t, Design 13,000 t
Length: 382 ft (116.4 m)
Beam: 77 ft (23.5 m)
Draft: 24.8 ft (7.5 m)
Propulsion: Engines: 2x triple-expansion reciprocating engines, 8 × Babcock & Wilcox boilers, Power: 10,000 ihp (7,500 kW)
Speed: 17 knots maximum
Complement: 744
Armament: 4×12-inch (305 mm), 8×8-inch (203 mm), 8×7-inch (178 mm), 12×3-inch (76 mm), 6×3 pdr, 2×1 pdr, 2×21-inch (533 mm) Torpedo Tubes
Armour: Belt 9in, Turrets 12in, Deck 3in, Conning Tower: 9in

For Gamers and Game designers
Although relatively obsolete even by WWI standards and decommissioned before WW2, Kilkis is puzzlingly a popular unit for inclusion both in WW1 and WW2 naval wargames. In his "Hellenic Warships 1829-2001" book, Vice Admiral Paizis-Paradellis has chosen her low speed and low freeboard as her main disadvantages, and acknowledged the extensive use of electrically driven machinery as a novelty for the Greek navy at the time.
For Modellers

A profile by Chadoulas:



A model of Kilkis (I believe from the National Maritime Museum in Faliro):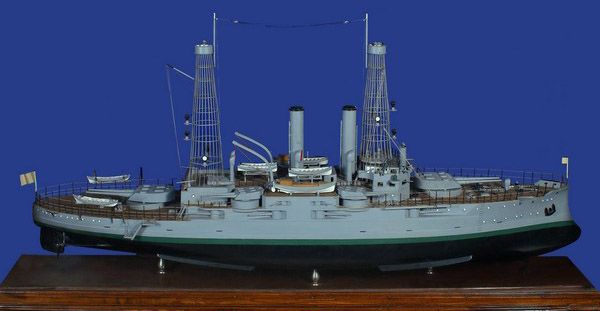 A 1:1800 miniature for Axis & Allies Naval miniatures by Seisen:


An award-winning Kilkis displayed at IPMS-Hellas 2010: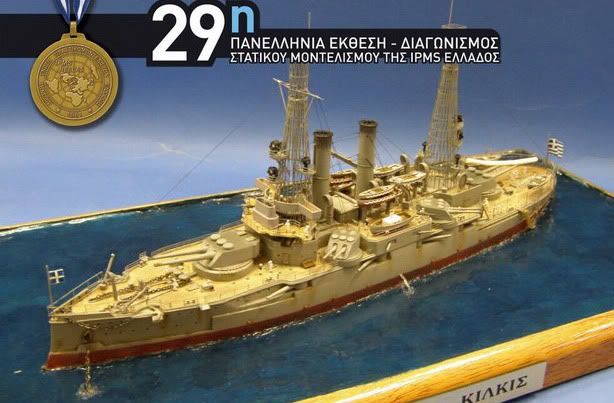 Additional photos of Kilkis: