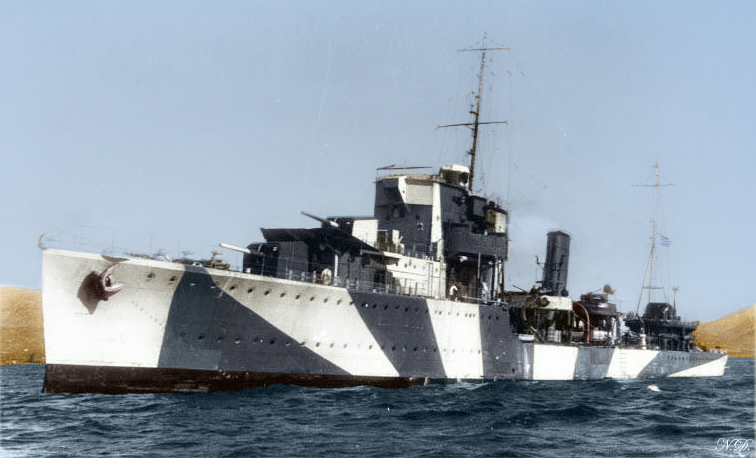 A modified version of the British G-class of destroyers, Vasilissa Olga was the most modern ship of the Royal Hellenic Navy at the outbreak of World War 2. Together with her sister,
Vasilefs Georgios
, she was built by Yarrow, but was fitted with German-made 127mm (5 inch) guns and 37mm AA guns. The installation of the armament was carried out in Greece as the Germans refused to ship the weapons to Britain. Two further ships of the same class, the Vasilefs Konstantinos and Vasilissa Sofia, were to be built in Greece, but construction halted due to the outbreak of the Second World War.
Until September 1943, when she was sunk by German bombers,
Vasilissa Olga had distinguished herself as the most successful Greek ship in the war. Ironically, before she was sunk, she was known as the phantom ship of the Mediterranean destroyer flotillas, because of the several times she had escaped damage. A monument has been erected in Leros in honour of the ship.
You can watch a documentary (in Greek) of Vasilissa Olga from the
Ert.gr archives
.
Operational History
8
Feb. 1937
- Laid down (Yarrow Shipbuilders Ltd., Scotstoun, Scotland).
2 Jun 1938
- Launched.
14 Feb 1939
- Commissioned. Under Captain Zarokostas she sails towards Salamina, Greece, where she arrives on the 1st of March 1939. She will participate in several missions until 1943 in convoy escort duty.
15 Aug. 1940
- Sails to Tinos to escort the pilgrims
14 - 15 Nov. 1940
- Participates in the 1st Otranto Straight raid
4 - 5 Jan. 1941
- Participates in the 3rd Otranto Straight raid
Feb 1941
- With defeat against the Germans seeming imminent, Vasilissa Olga carries the gold from the Bank of Greece to the island of Crete.
25 April 1941
-

Three days before Greece falls to the Germans, Vasilissa Olga escapes to Alexandria, where she is assigned pennant number H 86 by the British. New captain is Georgios Blessas (photo).
Nov. - Dec. 1941
- Undergoes modernisation in Calcutta and returns to active duty in the Mediterranean Sea.
Feb. 1942
- Back in the Mediterranean. Joins a British squadron and participates in the Tobruk operations
26 Mar. 1942
- Picks up 20 survivors from the British tanker RFA Slavol that was torpedoed and sunk by the German submarine U-205 off Sidi Barrani, Egypt.
10 Jun. 1942
- Picks up 53 men from the British tanker RFA Brambleleaf that was torpedoed and damaged by the German submarine U-559 off Ras Alem, Egypt.
15 Dec. 1942
- Together with the British destroyer HMS Petard, Vasilissa Olga sinks the Italian Adua-class submarine Uarsciek (620 tons) south off Malta.
19 Jan. 1943
- Together with the British destroyers HMS Pakenham and HMS Nubian, Vasilissa Olga sinks the German transport ship Stromboli (475 tons) off the Libyan coast.

2 Jun. 1943
- Together with the British destroyer HMS Jervis, Vasilissa Olga opens fire from 2km against the Italian Spica-class torpedo boat Castore (652 tons, see photo) and the Italian merchant ships Postumia (595 GRT) and Vragnizza (1592 GRT). Castore was sunk (at 03:15), while Postumia and Vragnizza were damaged. According to the war diaries of the Seekriegsleitung, both merchant vessels are reported to have arrived in Messina at 1630 hours on 3 June. Other sources give that Postumia went ashore and was later raised and repaired.
10 Sep. 1943
- As a recognition of the Greek Navy's contribution to the war, Vasilissa Olga leads the Allied fleet (HMS Warspite, HMS Valliant, HMS Faulknor, HMS Fury, HMS Echo, HMS Intrepid, HMS Raider, Le Terrible) that receives the surrendering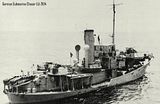 Italian fleet.
17 Sep. 1943
- Together with British destroyers HMS Faulknor and Eclipse, she sinks a German convoy, consisting of the transport ships Pluto (2,000 tons), Paolo (4,000 tons) and the German submarine chaser UJ 2104 (see photo), near Astypalea.
Sep. 1943
- During the Battle of Leros, she transports members of the Long Range Desert Group to the island.
26 Sep. 1943
- Lost to an attack of 25 Ju-88 bomber aircraft while anchored in Lakki Bay, Leros. Cmdr Blessas, 6 officers and 65 other members of the crew perished with the ship. Cmdr Blessas was the first to fall during the attack. During the final moments of the ship, just before it disappears, someone cries "Zito i Olga" (Hail, Olga).

All surviving members of the crew repeat it.
Specifications
Modified G-class destroyer "Vasilissa Olga"
Displacement
: (Standard) 1,414 tons
Length
: 98 m
Beam
: 10.2 m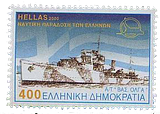 Draft
: 2.59 m
Range
: 4,800 nautical miles (8,890 km) at 19 knots (35 km/h)
Speed
: 36 knots
Engine
: 3 Admiralty 3-Drum Type Boilers, 2 Parsons Geared Turbines, 34,000 HP
Complement
: 145
Armament
: (original) 4×5 in, 4×37 mm A/A, 2×4 21 in T/T
(after 1941 refit) 4×5 in, 1×4 21 in T/T, 1×3 in A/A, 6×20 mm A/A, A/S device added
For gamers and game designers
As the most modern and
most successful Greek ship in World War 2, Vasilissa Olga has a special place in Hellenic Navy wargaming. Notice that after the 1941 refit, four torpedo tubes were removed, but she was improved considerably in terms of Anti-aircraft and Anti-submarine capabilities.
For modellers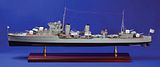 The ship's camo differed a lot before and during the war, depending on the season and the area where it operated. It is very difficult to find reliable details. There are two scale models of the ship in the Hellenic Maritime Museum. Vasilissa Olga has also appeared in 1/1800 in the Axis & Allies Naval Miniatures game. The model below is from IPMS Hellas 2007: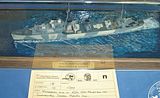 One more below by D. Georgiadis:
And a profile from unknown source: