The sister ship of
Vasilissa Olga
, Vasilefs Georgios was also built by Yarrow and fitted with German-made 127mm (5 inch) guns and 37mm AA guns. Two further ships of the same class, the Vasilefs Konstantinos and Vasilissa Sofia, were to be built in Greece, but construction halted due to the outbreak of the Second World War.
Vasilefs Georgios became the flagship of the Greek Destroyer Flotilla.
Operational History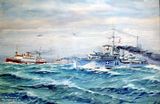 As "Vasilefs Georgios"
1937 - Laid down.
3 Mar. 1938 - Launched.
5 Feb. 1939 - Commissioned.
14 - 15 Nov. 1940 - Participates in the first naval raid against Italian shipping in the Strait of Otranto.
4 - 5 Jan. 1941 - Participates in the third naval raid against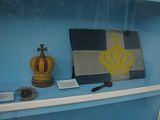 Italian shipping in the Strait of Otranto.
14 Apr. 1941 - During the German invasion of Greece, while anchored at Sofikos Bay in the Saronic Gulf, she is attacked by German aircraft and suffers severe damage. Under the command of her captain, Commander P. Lappas, she manages with great difficulty to reach the Salamis Naval Yard where she is dry docked. However, due to the rapid German advance and the inability of repairs to be completed on time, she was scuttled to prevent capture.


As ZG-3 "Hermes"


Mar. 1942 - Vasilefs Georgios is raised and repaired by the Germans. It is commissioned in the German Navy as ZG-3 "Hermes" on 21 Mar. 1942. ZG3 becomes the flagship of the German Aegean Flotilla, serving mainly in convoy escort duties, under Kapitän zur See Rolf Johannesson.
24-25 Jun. 1942 - Together with the Italian destroyer Turbine and the Italian torpedo boats Castelfidardo, F. Crispi and Solferino, ZG3 escorts a convoy of seven transports from Piraeus to Crete.
26-27 Jun. 1942 - ZG3 and the Italian escorts escort sone ships back from Crete.
02-03 Jul. 1942 - A defensive mine laying operation of the mine layers Barletta and Bulgaria near the Cyclades is covered by ZG3 and the Italian boats Cassiopeia and Lupo.
06-07 Jul. 1942 - ZG3 transfers from Piraeus to Crete.
08-10 Jul. 1942 - Together with three Italian warships and two German submarine chaser, ZG3 escorts a convoy of 7 ships to Tobruk.
15-17 Jul. 1942 - ZG3 and the Italian torpedo boat Cassiopeia escort a small convoy of two ships form Tobruk to Piraeus.
22 Jul. 1942 - ZG3 transfers from Piraeus to the Suda Bight at Crete.
23-24 Jul. 1942 - A small convoy of two transports is escorted by ZG3 and an Italian torpedo boat form Crete to Tobruk.
24-25 Jul. 1942 - The destroyer returns to the Suda Bight.
16 Nov. 1942 - Near Cape Kafireas, one of the convoys escorted by ZG3 comes under attack by the Greek submarine Triton. Triton is sunk by one of the escorting vessels.
1943 - ZG3 leaves the East side of the Mediterranean and operates in the West Mediterranean, escorting supply ships to North Africa.
Apr. - May 1943 - New commander of ZG3 is FKpt. Lampe.
21 Apr. 1943 - ZG3 sinks the British submarine HMS Splendid.
30 Apr. 1943 - During the battle of Tunis, ZG3 is heavily damaged by air attacks and is forced to run aground near Cape Bon in Tunisia a few days later. When the Allies liberate the area it is decided not to repair the ship due to the high cost involved and it is abandoned.


Specifications
Modified G-class destroyer "Vasilefs Georgios"
Displacement: (Standard) 1,414 tons
Length: 97.5 m
Beam: 9.7 m
Draft: 2.7 m
Range: 4,800 nautical miles (8,890 km) at 19 knots (35 km/h)
Speed: 35 knots
Engine: 3 Admiralty 3-Drum Type Boilers, 2 Parsons Geared Turbines, 34,000 HP
Complement: 145
Armament: (original) 4×5 in, 4×37 mm A/A, 2×4 21 in T/T
(German refit) 4×5 in, 4×37 mm A/A, 4×20mm, 2×4 21 in T/T
For modellers
Similar to Vasilissa Olga. Notice that while Greece is a neutral nation (until 28 Oct. 1940), a Greek flag is painted on the sides
For gamers and game designers
A modified G-class destroyer that was as modern as almost any other destroyer at the beginning of the war.
An Italian documentary on the ZG-3 Hermes: