In 1912, with the help of French experts Greece received its first four aircraft to form an air force. They were French-built Farman biplanes; a Henri Farman Biplane named "Daedalus", a Henri Farman 20, a Maurice Farman Hydravion and a Maurice Farman Biplane. Prime minister Eleftherios Venizelos had stated earlier that year that "... the airplane is the weapon suitable for the weaker countries. The venturesome nature of the Greek will make it a brilliant weapon and in the future will do yeoman's service to the Greek Armed Forces...". The purchase of the four aircraft had been financed substantially by the donation of a poet named Matsoukis.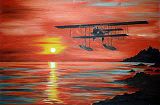 One of the first Greek pilots was Dimitrios Kamperos, an artillery officer. In June 1912, he converted his Henri Farman to a hydroplane and reached a speed of 110 km/h, setting a new world record. After World War I, he served briefly as chief instructor of the Hellenic Air Force Academy ("Icarus School"). He died of cold and starvation during the great famine of 1942.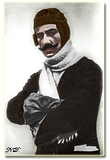 The nickname Trelokamperos (Crazy Kamperos) that he earned for his daredevil flying lives on in the Greek language today.
The French carte postale below shows Kamperos ("Campères" in French). It reads: "Henri Farman biplane piloted by Lieutenant Kamperos of the Hellenic Army has landed at Champagne the 1st of May 1912".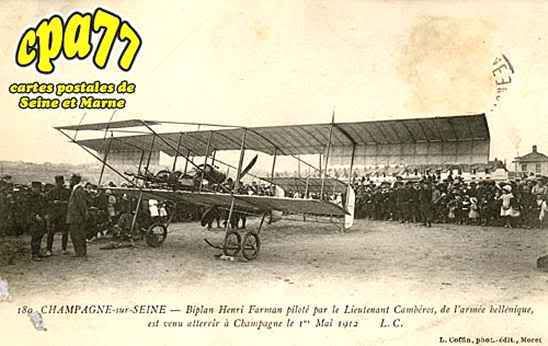 Operational History
December 1911 - Chosen from a list of 60 applicants, the first Greek officers to be trained as pilots are Dimitrios Kamperos (1st Lt., Artillery), Michalis Moutousis (1st Lt. Engineers) and Christos Adamidis (2nd Lt., Cavalry). The training is held at the flight school of the Farman brothers in Etampes, France.
April 1912 - Three more are added; Loukas Papaloukas (1st Lt., Infantry), Markos Drakos (1st Lt., Artillery), Panoutsos Notaras (2nd Lt., Cavalry).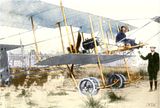 9 April 1912 - The first four aircraft arrive at the port of Piraeus inside wooden boxes.
Early May 1912 - Having graduated, Dimitris Kamperos arrives to Greece together with his French mechanic, A. Chauveau. The aircraft are assembled inside the Zoo of Paleo Faliro.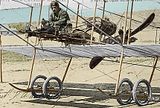 13 May 1912 - Kamperos takes off and flies for a few minutes. This is the first military flight in Greece. Note that Emmanouil Argyropoulos has already performed the first civilian flight in front of thousands of spectators on 8 February 1912.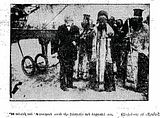 27 May 1912 - Official ceremony and christening of the aircraft by Venizelos, as "Daedalus", "Aetos", "Gyps", "Ierax". A large crowd has gathered to see them.
June 1912 - Having converted his Henri Farman to a hydroplane, Kamperos breaks the airspeed world record, reaching 110 km/h.
September 1912 - All trainees are called back from Etampes to Greece, to participate in the first Balkan war against the Ottoman Empire.
5 October 1912 - In the first ever Greek air operation, Kamperos takes off from the new Larisa Aerodrome, flies over the borders at the area of "Skompia" and returns to report on the enemy's position.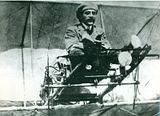 17 October 1912 - Prince Constantine sends a telegraph asking Kamperos to perform reconnaissance flights over the enemy positions in Kozani. On a forced landing near Kozani due to mechanical failure, both Kamperos and Chauveau are injured.



Specifications
Henri Farman Biplane "Daedalus"
Crew: 1
Length: 12 m (39 ft 4½ in)
Wingspan: 10 m (33 ft 9¾ in)
Height: 3.5 m (11 ft 6 in)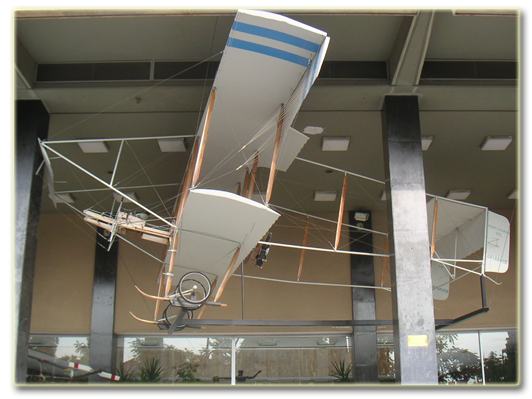 Wing area: 40 m² (430.56 ft²)
Gross weight: 550 kg (1213 lb)
Powerplant: 1 × Gnome et Rhône 7-cylinder rotary engine, 37 kW (50 hp)
Max. Speed: 60 km/h

For Gamers and Game designers
The Henri Farman aircraft could realistically be used only for reconnaissance.
For Modellers
The profile below is based on the replica Daedalus at the entrance of the National War Museum in Athens.