Ex-USS Ludlow (DD-438) and one of two similar destroyers offered by the United States, Doxa was accepted in 1950 by Cdr N.Ritsos HN and arrived in Greece in the summer of 1951. She remained in commission without interruption until 1971, when she was put on reserve. The ship's history in US service is quite rich, as she received six battle stars for her World War II service, but less interesting post-war and after she joined the Greek Navy.
Operational History
In US service as USS Ludlow (DD-438):
18 Dec. 1939 - Laid down.
11 Nov. 1940 - Launched.
5 March 1941 - Commissioned.
Oct. 1941 - Having completed shakedown, Ludlow leaves Boston for Newfoundland and Iceland, convoying supplies ultimately destined for the British Isles.
7 Dec. 1941 - Following the attack on Pearl Harbor and the declaration of war between Germany and the United States, Ludlow's convoy runs are lengthened to include the ports of Derry, Liverpool, Greenoch, and Freetown, South Africa.
7 Nov. 1942 - Assigned to Task Force 34 for the invasion of North Africa, Ludlow arrives off Cape Fedhala, French Morocco. Shortly after the first wave of landing craft headed tor shore, Ludlow finds herself engaging shore batteries, bombers, and a Vichy French naval force comprising a cruiser and two destroyers in the Naval Battle of Casablanca. A 6 inch shell strikes her forward and straddling shots are falling close aboard when Augusta and Brooklyn arrive and help to dispose of the French ships.
Jan. 1943 - Returns to New York to repair battle damage and then conducts training off the coast of Maine.
14 Jan. 1943 - Departs for the first of three convoy runs to Casablanca.
June 1943 - After the third convoy, Ludlow remains in the Mediterranean Sea for the forthcoming invasion of Sicily.
10 July 1943 - Ludlow provides fire support for the invading forces off Licata and Porsa Empedocle.
11 Aug. 1943 - Following daily enemy air attacks, Ludlow downs her first enemy airplane.
9 Sep. 1943 - Participating in the invasion of Italy, Ludlow leads a section of the assault wave through a known minefield to the bloody landing at Salerno. She and her sister ships are warmly commended by the commanding general ashore for their effective close range fire support.
Late 1943 until 11 Jan. 1944 - On convoy duty between Naples and Oran.
22 Jan. 1944 - She covers Allied troops storming ashore at Anzio. In the following days, Ludlow splashes two bombers, one fighter and three rocket glider bombs. A 5 inch shell crashes through the torpedo director deck and the pilothouse, causing Ludlow to retire, but serious damage is averted when Chief Gunners Mate James D. Johnson locate the hot, unexploded shell and manage to get it topside and overboard.
Early 1944 - Repaired at New York. Trained along the Atlantic coast.
20 Apr. 1944 - Returned to the Mediterranean for antisubmarine patrols.
19 May 1944 - Ludlow and Niblack depth charge U-960 to the surface, where Ludlow's main battery sinks her.
11 Aug. 1944 - Following convoy alignments in the western Mediterranean, Ludlow steams from Palermo for the invasion of southern France. 25-30 Aug. 1944 - Following preinvasion bombardment and beachhead screening off Frejus, she joins Augusta (CA-31) to help overcome the last resistance at Marseilles. While on coastal fire support missions around Monaco, she encounters not only floating mines and E-boats, but also attacks by explosive-laden boats and human torpedoes.
5 Sep. 1944 - Ludlow captures three operators of these one-man diving machines after a series of depth charge attacks. Fire support, convoy and patrol duty continue.
23 Jan. 1945 - Ludlow sails for a month's plane guard duty off the west coast of Africa.
28 Feb. 1945 - Returns to Boston.
Apr. 1945 - Ludlow sails to England to escort a convoy of LSTs stateside and then prepares for duty in the Pacific.
27 June 1945 - Crosses the Panama Canal
17 July 1945 - Reaches Pearl Harbor and begins training for operations with the fast carriers. The surrender of Japan, however diverts her to the job of escorting ships filled with occupation troops to the home islands of the defeated Empire.
7 Sep. 1945 - Departs Pearl Harbor
27 Sep. 1945 - Arrives at Wakayama, Japan, and operates in the Far East.
3 Nov. 1945 - Sails for the Aleutians where she sees a brief period of "Magic Carpet" duty. That is the the post-World War II effort by the War Shipping Administration to repatriate the American military personnel.
20 May 1946 - Out of commission in reserve at Charleston, South Carolina. Utilised for reserve training.
6 June 1950 - In commission in reserve on 6 June 1950
21 Nov. 1950 - On active status.
22 Jan. 1951 - Decommissioned


In Greek service as Doxa D-20:
1950 - Accepted by Cdr N.Ritsos
Summer of 1951 - Arrives in Greece
1954 - Overhauled together with sistership Niki in the United States
1972 - Decommissioned



Specifications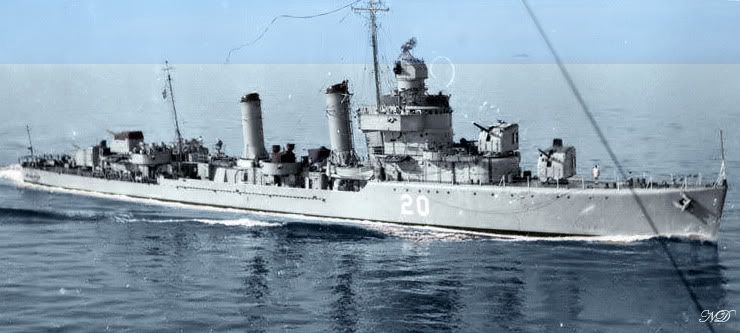 Gleeves class (sub-class Livermore) destroyer "Doxa" D-20
Displacement: 1,639/2,572t
Propulsion: Steam turbines 50.000 shp, twin propeller Length: 106m
Width: 11m
Draft: 5.5m
Speed: 37 knots
Armament: 4x 5inch/38 guns, 12(2x4 + 2x2)x 40 mm guns, 6x 20 mm guns, 5x 21in torpedo tubes,Hedgehog, depth charges.

For Gamers and Game designers
A very capable destroyer during World War 2, but relatively obsolescent by the 1950s.