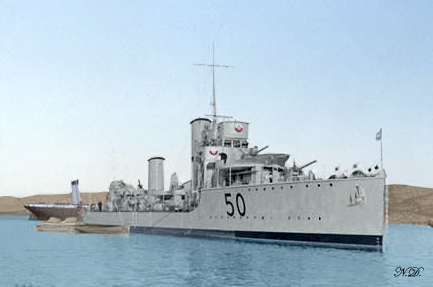 Leon II was one of four Wild Beast class destroyers built in the Camell Laird shipyards in Liverpool. They were originally intended for Argentina, but they were bought by Greece for £148,000 each. For the Balkan Wars, these ships were not given torpedoes and were considered scouts rather than destroyers, because the Royal Hellenic Navy had purchased only minimum ammunitions; 3,000 torpedoes for the whole of the fleet. Leon had a lot of bad luck and no major achievements during the wars that it participated in.
Operational History
19 Sep. 1912 - Commissioned in the Royal Hellenic Navy. It will soon participate in the Balkan wars under Lieutenant Commander J. Razikotsikas, while also on board is Squadron Commander D. Papachristos.
Oct. 1916 - Seized by the French. Participates in World War I on their side.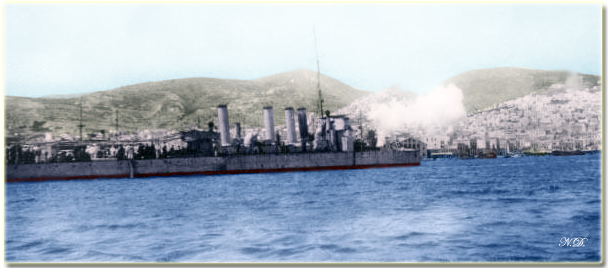 1918 - Returns to escort duty under Greek colours and in the blockades of the coasts of the Black Sea from the Bosphorus to Trebizond.
22 Dec. 1921 - While moored with Ierax in Piraeus harbour, they are both severely damaged by the explosion of a depth charge bomb which the crew of Leon was transporting. Two officers, one petty officer and two sailors are killed on Leon and two sailors on Ierax. Leon completely loses her aft section up to her stern gun.
1925-27 - Undergoes refurbishment.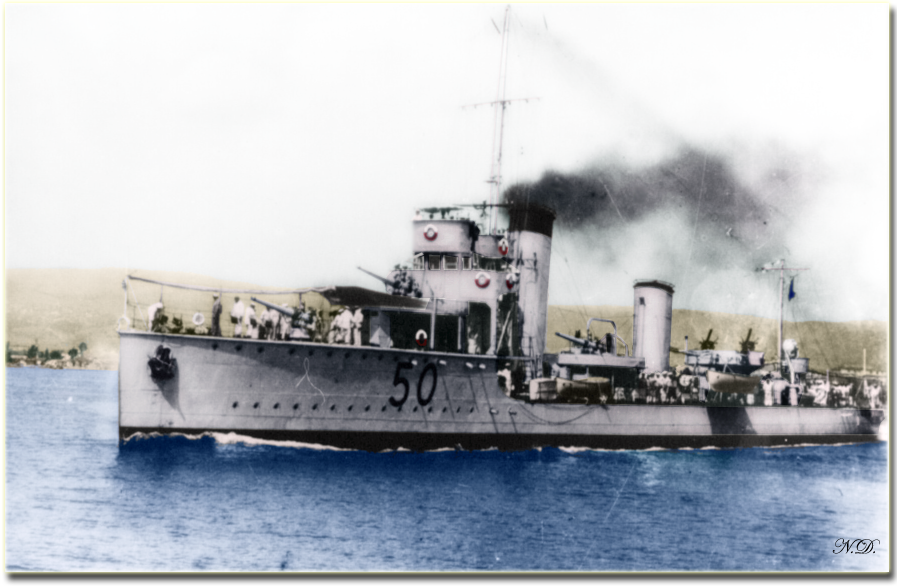 1 March 1935 - During the failed coup attempt of 1935, Leon is briefly captured by the venizelists.
1940 - Leon is commanded by Petros Protopapas during World War 2.
18 April 1941 - During a convoy escort, she collides with passenger ship Ardena and two depth charges explode. As a result, the stern section is cut off and two officers get killed.
15 May 1941 - Sunk by German bombers in Souda Bay (Crete) where she was towed from Salamis Naval Base.


Specifications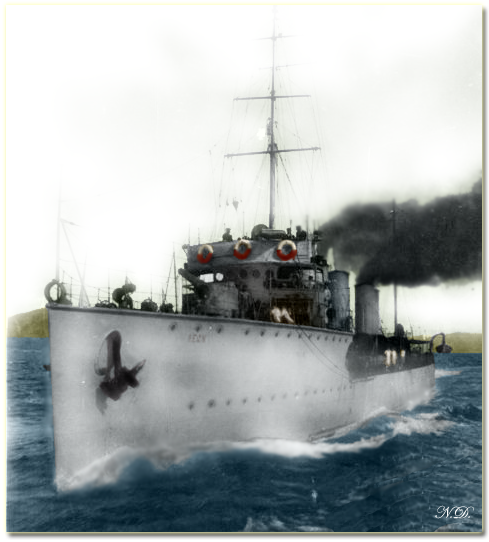 Wild-beast class destroyer "Leon" II
Displacement: (Standard) 880 tons
Length: 89.4 m
Beam: 8.3 m
Draft: 3 m
Range: 530 m
Speed: (before 1925) 31 knots, (from 1925) 32 knots
Complement: 58
Armament: (as completed) 4× Bethlehem 102 mm, 1× 75 mm AA, 6× 533 mm T.T., 3× electric search lights
(from 1925) 75 mm AA removed, 37 mm AA added, four-barrel 40 mm added, 2 mortars added, modified for laying 40 mines

For modellers


The ship differs significantly before and after its 1925 refit. This scale model represents the pre-1925 version with the five funnels.

For gamers and game designers
Notice that Leon II has no torpedoes during the Balkan wars and can act only as scout. In later years it acts as proper destroyer with torpedoes, depth charges, etc.