A British ship, originally named HMS Hyacinth, with two successes against Italian submarines (one sunk, one captured) and one German submarine sunk (U-617). It was transfered on loan to the Hellenic Navy in 24 October 1943 and was renamed "Apostolis" after the Admiral from Psara that participated in the 1821 War of Independence. With the Greeks, the ship operated in the Mediterranean for the remainder of the war and in the civil war between 1946 and 1949. It war given back to the Royal Navy in 1959.
Operational History
as HMS Hyacinth
1940 - Commissioned in the Royal Navy.
28 September 1941 - Sinks Italian submarine Fisalia near Tel Aviv.
9 July 1942 - Damages and captures Italian submarine Perla. Perla is repaired and is put into operation with the Hellenic Navy under the name Matrosos.
12 September 1943 - HMS Hyacinth and the Australian minesweeper HMAS Wollongong sink the German submarine U-617.
as Apostolis
23 Oct. 1943 - Transfered to the Greeks in Alexandria and renamed "Apostolis".
1946 - 1949 - Participates in the Greek civil war on the side of the National Army.
1959 - Returns to the Royal Navy.


Specifications
Flower class corvette "Apostolis"
Displacement: 1,060/1,250 tons
Propulsion: 2,750 hp
Length: 62.4m
Width: 9.75m
Draft: 4.4m
Speed: 16 knots
Armament: 1 × 3-inch gun, 1 x 40mm, 4 x 20mm
Crew: 85

For Gamers and Game designers
HMS Hyacinth had a remarkable war record, with three anti-submarine successes, but was not equally successful in Greek service as Apostolis.


For Modellers
A model of Apostolis in the Hellenic Maritime Museum:



and a model competing at IPMS Hellas 2008: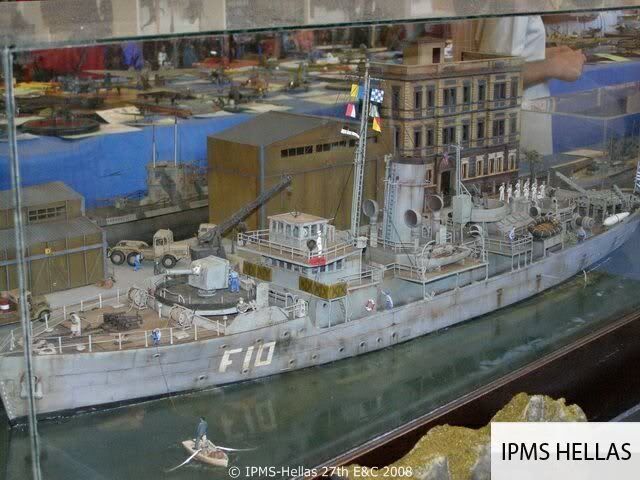 Notice that contrary to other Flower class corvettes, like Kriezis and Tompazis, Apostolis had never had her forecastle extended. That is because both in British and in Greek service, it operated exclusively in the East Mediterranean, far from British shipyards. Also, she carried a 3-inch instead of a 4-inch gun.

More photos: