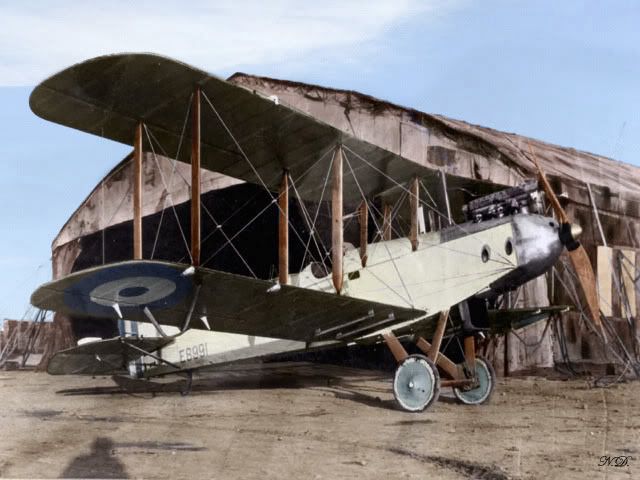 After the end of World War I and over the next two years, the Greeks received 41 RAF surplus Airco de Havilland D.H.9 two-seater bombers. These were mainly used by the Naval Air Service during the Asia Minor campaign, with at least six of them converted into hydroplanes in 1926. A few D.H.9s were used for training up to 1932.
The photo above shows the E8991 aircraft. According to the
Ptisi magazine
and the personal archives of H. Daloumis, it was built in Airco, Hendon, in the summer of 1918, as part of RAF order 35a/418/C.296 for 66 such aircraft. It reached London in a package on 19 Sep. 1918, and Moudros, where it was assembled ready to fly, on 3 Oct. 1918. Greek sources mention that it was offered as a gift to A. Moraitinis, the top Greek fighter ace of all time.
Operational History
Late 1918 - The first D.H.9s reach Greece.
1919-1920 - The aircraft are being delivered to the Greek Naval Air Service.
May 1920 - The DH9s begin operations from Paradisi airfield, Smyrna.
1926 - At least six D.H.9s are converted into hydroplanes.
1932 - D.H.9s are removed from service.


Specifications
Airco De Havilland D.H.9
Length: 9.27 m
Wingspan: 12.92 m
Height: 3.44 m
Wing Area: 40.3 sq.m
Weight: (empty) 1,014 kg, (max take-off) 1,723 kg
Engine: 1x Siddeley Puma engine 230 HP (172 kW)
Speed: 182 km/h
Endurance: 4.5 hrs
Ceiling: 4,730 m
Climb to 10,000 ft (3,048 m): 18.5 mins
Crew: 2
Armament: Forward firing Vickers machine gun and 1 or 2 × Rear Lewis guns on scarff ring. Bomb payload 209 kg

For Gamers and Game designers
The DH9 was exported widely mainly for its low cost rather than for its performance, which was inferior to most contemporary bombers. Interestingly, the Turks used the same bomber.
For Modellers
E8991 (The personal aircraft of Aristidis Moraitinis)
Profiles by D. Georgiadis, Insignia Magazine and Pierre-Andre Tilley (Aero Journal No.14, Aug.- Sep. 2000):



NAY-78
A profile by W.I. Boucher of www.wwiaviation.com. The specific aircraft was stationed at Afion-Karahisar in July 1921. According to the same source, roundels on the lower wing surface do not have an 1-inch white outline. The second profile is from Insignia magazine.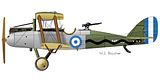 "SPETSAI"
A profile by D. Georgiadis and a photo taken in Smyrna, 1919.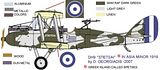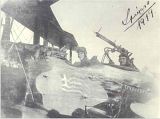 A very impressive 1/20 RC model by George Kandylakis as posted in www.rcgroups.com :