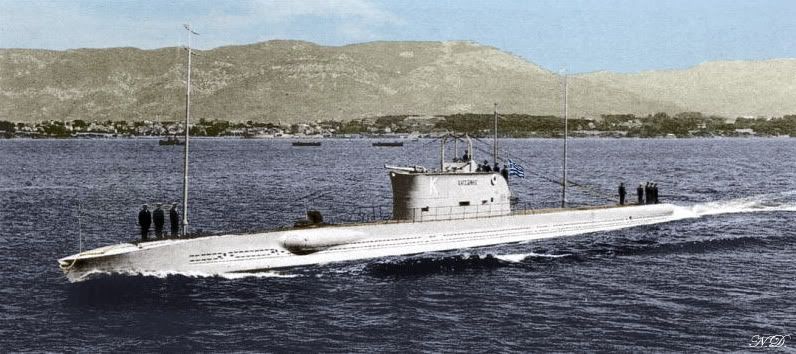 A sister of
Y-2 "Papanikolis"
, Y-1 "Katsonis" was one of only six submarines available to the Greeks in 1940. Despite being an aged submarine by World War II, it was used extensively in war patrols and commando operations in the Adriatic and the Aegean Sea, before being sunk by a German subchaser in 1943.
The crew of Katsonis:

Operational History
1925
- Laid down
1927
- Launched
8 June 1928
- Commissioned. First captain is Cdr Κ. Arvanitis.
3 - 10 Nov. 1940
- First war patrol (under Cdr Spanidis). Adriatic, 216 hours (84 subm./132 surf.).
22 Dec. 1940 - 4 Jan. 1941
- Second war patrol (under Cdr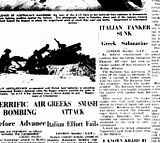 Athanasios Spanidis). Adriatic, 312 hours (132 subm./180 surf.).
31 Dec. 1940
- Sinks the 531-ton Italian freighter Quinto (531 GRT) off Antivari
14 - 21 Feb. 1941
- Third war patrol (under Cdr Spanidis). Adriatic, 168 hours (60 subm./108 surf.).
24 Mar. - 1 Apr. 1941
- Fourth war patrol (under Cdr Spanidis). Adriatic, 216 hours (84 subm./132 surf.).
Apr. 1941
- After the German invasion, Katsonis escapes to the Middle East, operating with the British Pennant number N 16.
2 July 1942
- Damaged while exiting a dry dock at Port Said.
28 Mar. - 10 Apr. 1943
- Fifth war patrol (under Cdr Laskos). Aegean/Crete, 408 hours (170 subm./238 surf.). After patrolling the North Aegean and later disembarking commandos in the Lakonia, Katsonis encounters three sail boats, which, contrary to orders, Laskos spares because they were carrying food to Piraeus during the famine. The same day they encounter another sail boat, one of the crew of which offers information regarding the movements of an enemy patrol boat off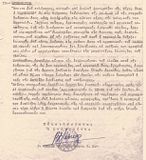 Gytheio. They take him on board and give him the nickname "Lafiro" (plunder).
2 Apr. 1943
- Katsonis approaches the port of Gytheio and sinks an Italian minelayer with torpedoes. According to a British article, it was carrying depth charges and torpedoes, and 20 Italian officers and soldiers were killed on it.
5 Apr. 1943
- Sinks the Spanish/German 1,500-ton merchant steamship San Issidro (322 GRT) off Kythnos.
21 May - 4 June 1943
- Sixth war patrol (under Cdr Laskos). Aegean, 456 hours (186 subm./270 surf.).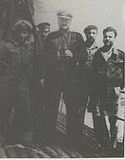 29 May 1943
- Sinks the German freighter Rigel (552 GRT) near Skiathos.
2 June 1943
- Fires two torpedoes at the Italian cargo ship Versilia (591 GRT) off Karlovassi, but misses.
5 - 14 Sep. 1943
- Seventh war patrol (under Cdr Laskos). North Aegean, 212 hours (107 subm./105 surf.). The mission is to patrol North Aegean and land commandos. The boat quickly shows its age, with main problem the failure of one engine. Nevertheless, Laskos continues the war patrol.
8 Sep. 1943
- Katsonis receives the message for the Italian armistice.
11 Sep. 1943
- Lands the Greek commandos without incident.
12 Sep. 1943
- Intercepts two sail boats and Laskos finds out that a captured French ship, Simfra, is carrying German soldiers on leave.
13 - 14 Sep. 1943
- Charges its batteries and submerges to patrol the area between Pilio and Skiathos, looking for Simfra. Laskos spots a sail boat and decides to surface to try to get more information about Simfra. While he is still talking probably to the boat's skipper, what looks like Simfra is spotted in the horizon. Katsonis soon receives optical identification signals from the ship, but it isn't Simfra. It is the German subchaser UJ-2101. Katsonis crash dives, but soon receives depth charges and is forced to resurface. Laskos orders the crew to return fire with the cannon, and after the gunners are killed, he himself takes their place, but is soon killed too, and Katsonis sinks.
31 men of the crew, including the captain, as well as "Lafiro" went down with Katsonis:
V. LASKOS
S. MYKONIOS
S. TROUPAKIS (photo)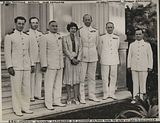 P. LAMPRINOUDIS
M. KAVALOUDIS
K. KSENOS
I. CHRYSOCHERIS
N. PANAGIOTIZAS
D. MARALETOS
L. STAMOS
P. MAGIATIS
V. RANTOS
N. MANTONANAKIS
A. VLACHAKIS
D. KOUVELIS
E. TSATSARIS
K. SELLAKIS
P. TSAKONAS
I. ECONOMOU
A. KRESTAS
E. PLATIDIS
S. KSEPAPADEAS
Ch. ALEXIOU
N. THYMARAS
M. LIMNAIOS
X. MITSIALIS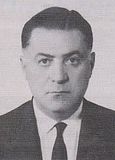 G. LENTZAKIS
N. MOSCHONAS
A. FOUNTOULAKOS
N. KOUROUZIS
D. PRINTZOS
Z. ZOGRAFOS
15 were captured, while Lt. Tsoukalas (photo) and petty officers Tsingros swam for 9 hours to reach Skiathos and Antoniou to reach Pilio. They later returned to the Middle East.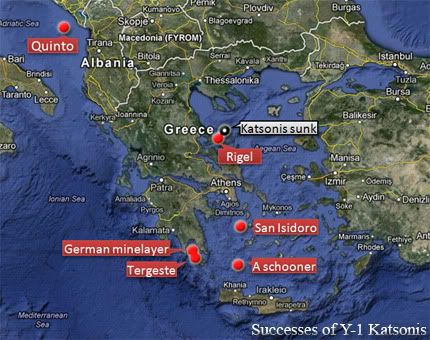 Specifications

Y-1 Katsonis submarine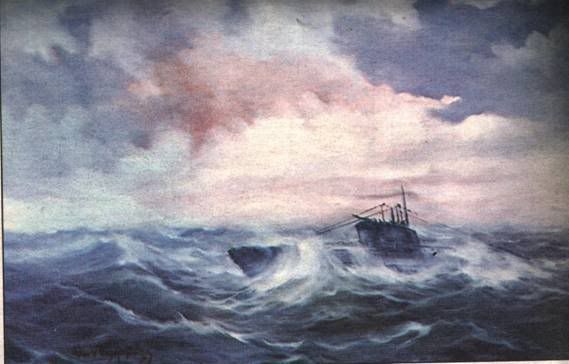 Displacement: Surfaced 576 tons, Submerged 775 tons
Length: 62.4 m
Beam: 5.3 m
Draft: 3.35 m
Propulsion: 2 × 2-cycle Schneider-Carels diesel 1,300hp, 2 × electric 1,000hp
Complement: 39-45
Max. Dive: 73 m
Speed: (Surf.) 14 knots, (Subm.) 9.5 knots
Range: (Surf.) 3,500 nm @ 10 knots, (Subm.) 100 nm @ 5 knots
Armament: 6x 533mm torpedo tubes (2 internal bow, 2 external bow, 2 external stern; 7 torpedoes), 1x 100mm cannon, 2x machine guns
For gamers and game designers
An aged submarine, Katsonis was obsolescent by 1940.
Captain Vasileios Laskos
Laskos was born on 17 Sep. 1899 in Elefsina. In 1922, he was a Sub Lieutenant on the torpedo boat Aspis. In September, he leaves his commander on the shore and joins the rebel fleet of the Plastiras movement in Cavo Doro. General Pangkalos takes power militarily, abolishes the monarchy and declares the Second Hellenic Republic. A close supporter of Pangkalos, Laskos stays with him until the Kondylis movement overthrows Pangkalos and sends him to prison. As a collaborator of Pangkalos, Laskos is now relegated to being in charge of only a warehouse of 50 faulty torpedoes. However, Laskos takes on the task to repair these torpedoes and subsequently receives the congratulations of the Minister of Naval Affairs and is rewarded with a trip to England to supervise the purchase of 50 newly ordered torpedoes.

When he returns, he decides to join the submarine fleet. In 1930, at the age of 32, he is assigned to Y-1 Katsonis. After the failed elections of 1933, he is convinced into taking part in the Venizelos movement. On 1 Mar. 1935, he manages to take control of the submarine base and helps the ships to receive their ammunition and escape. When the movement fails on land, the protagonists escape to the then Italian Dodecannese and then Italy. While in Italy, Laskos is charged back home with treason and sentenced twice to death. A year later, they are all pardoned and return to Greece. After being unemployed for a while, he is trusted to build and organise a factory in Elefsina, a project he carries out succesfully.

On October 1940, Laskos returns to active duty, leading a squadron of auxiliaries. When the Germans invade, he tries to escape to the Middle East. He is first caught by the Turks and is returned to Chios, where he hides as a nurse in a clinic. In the Spring of 1942, he tries again and manages to join the Free Greek forces in the Middle East. He wishes to return to the submarines, but he is now already 43 and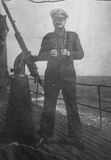 has missed the last eight years. He convinces fellow Arvanites, Admiral Aleksandros Sakellariou and Captain Panagiotis Konstas to give him command of Katsonis, which was the submarine most in need of repairs. After 7 months of repairs in Port Sudan, Katsonis is now in Port Said for dry docking. There it sinks due to human error. Laskos manages to convince the British to raise it, and a few months later the submarine is operational.