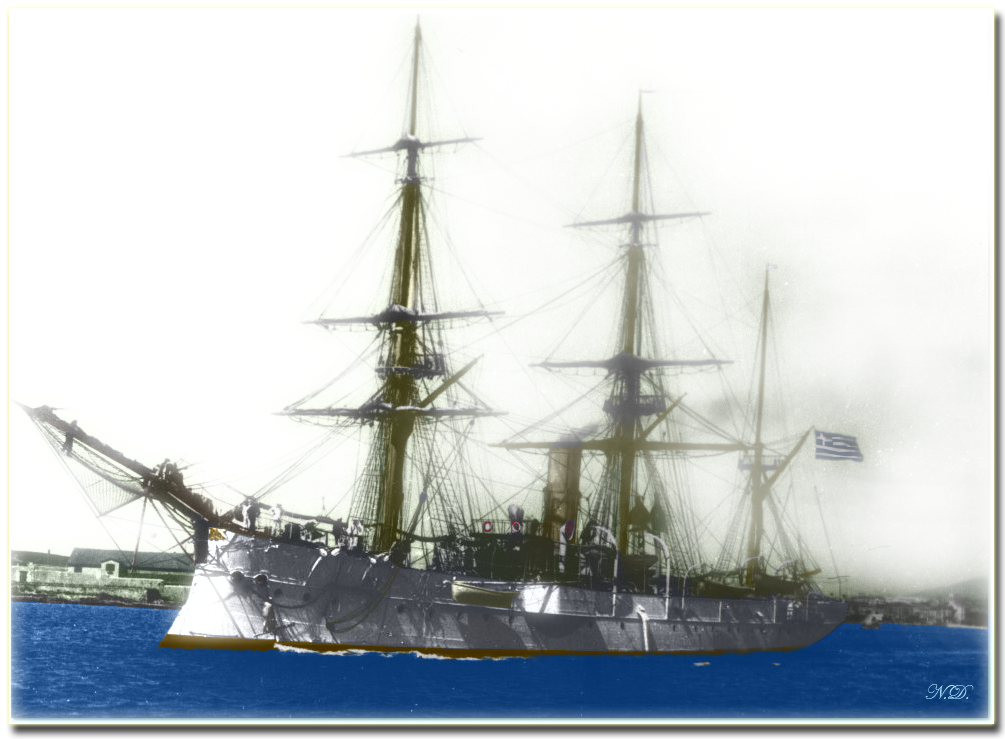 It may seem trivial today, but until 1900 no Greek warship had ever sailed the Atlantic to reach the United States. This was first achieved by the cruiser Miaoulis II, commanded by Koundouriotis. Built in 1879 at the Forges & Chantiers de La Med La Seyne dockyards, she was purchased by Greece as part of the naval modernisation and expansion program that followed the unsuccessful Cretan uprising of 1866. The largest part of the cost of the ship was met by K. Nikodimou's newly founded "Company For Formation of National Navy". Her military moment of glory came in 1897, when she prevented a Turkish warship from landing troops in Crete. She quickly became obsolete though, as both Greeks and Turks were upgrading to newer, faster and most importantly armoured warships. She served on active duty as a training ship until stricken in 1931.
Operational History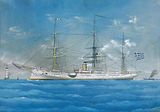 1878 - Laid down. Dockyards: Forges & Chantiers de La Med La Seyne in France.
1879 - Commissioned.
1897 - Flagship of the 4th Squadron, under K. Zotos, during the Cretan revolt. It prevents the Turkish warship "Fonat" from landing troops in Siteia, Crete.
1900 - Under Koundouriotis, sails the Atlantic and arrives at
the United States (Boston and Philadelphia). The first Greek warship to do so.
1912 - Becomes training ship for the school of gunnery and for the school of officers, in Poros.
1931 - Stricken.

Specifications
Miaoulis II light cruiser
Displacement: 1,820 tons
Shell Weight: 256 g
Length: 75 m
Beam: 11 m
Draft: 4.4 m
Propulsion: Both sail and 2,400 HP engine
Speed: 13.5 knots


Complement: 180
Armament: 3x 170 mm Krupp 25cal single, 1x 170 mm Krupp 20cal single, 6x 37mm 1pdr single
Armour: none
Cost: 2.3 million Gold Drachmas


For gamers and game designers
Miaoulis II had become obsolete by 1900. Its lack of armour and relatively low speed made it no match for the Turkish pre-dreadnoughts and cruisers.


For modellers
A scale model of Miaoulis II from the Hellenic Maritime Museum.