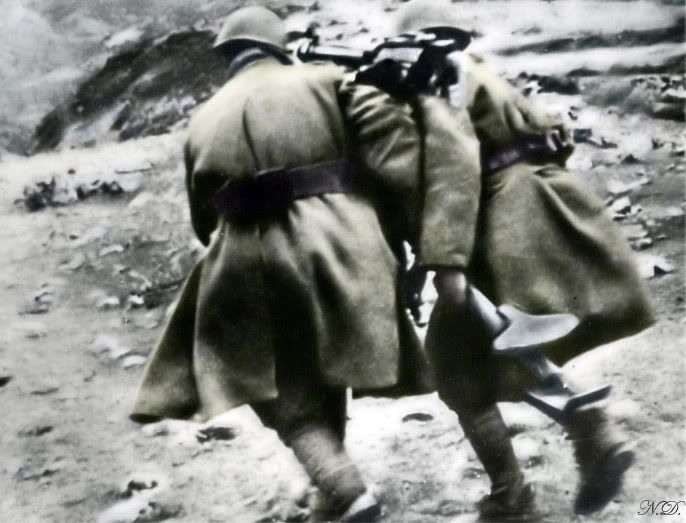 At the time of the Italian invasion, the Greeks had a total of 4,852 machine guns. Almost half of them were of the antiquated St. Etienne Mle 1907 type that was designed by the national arsenal at Saint Étienne (MAS) in 1907. It was a fairly complex design (with 64 parts) that had been gradually taken away from the French front lines towards the end of the First World War, in favour of the simpler and more reliable Hotchkiss Mle 1914 (also in the Greek arsenal in 1940). Although obsolescent, it was not disliked by the Greeks, who found it sufficiently effective during the Italian invasion.
Operational History
Possibly 1918 - (certainly before 1919) the Greeks receive several of these machine guns from France. It is not clear whether they are sold or offered to Greece when withdrawn from French service.
1919-22 - The St. Etienne is the main Greek machine gun type during the Asia Minor campaign.
1935 - With a war in Europe seeming imminent, the Greeks start repairing their old St. Etienne machine guns and buy new types too.
1941 - Greece falls to the Germans and the St. Etienne machine gun will not be used again in the Greek army.


Specifications
St. Etienne Mle 1907 machine gun

Weight: 25.73 kg
Length of weapon: 1.18 m
Length of barrel: 0.71 m
Caliber: 8 mm
Action: gas actuation
Rate of fire: adjustable 8 to theoretical max of 650 rounds/min, but below 500 in practice
Muzzle velocity: 724 m/s
Feed system: 25 rounds metal strip or 300 rounds fabric belt
For Gamers and Game designers Due to its mechanical complexity, the St. Etienne machine gun is prone to overheating. From an official French battlefield evaluation in 1917: "In summation, it functions well but only in the hands of the most meticulous of machine gun virtuosos". In some cases, it was also used in the anti-aircraft role. E.g. from the memoirs of General G. Berdeklis: "[Battle of Crete, 1941] There can be no comparison between our equipment and the equipment of the German paratroopers. Not only we lacked air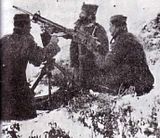 support, but we were practically out of ammunition too. We had only one St. Etienne machine gun and we used it as antiaircraft. When its last round was used, we destroyed it on the spot."
This photo shows a St Etienne used as antiaircraft by Greek soldiers. Notice the unusual 30-round magazine.

For Modellers