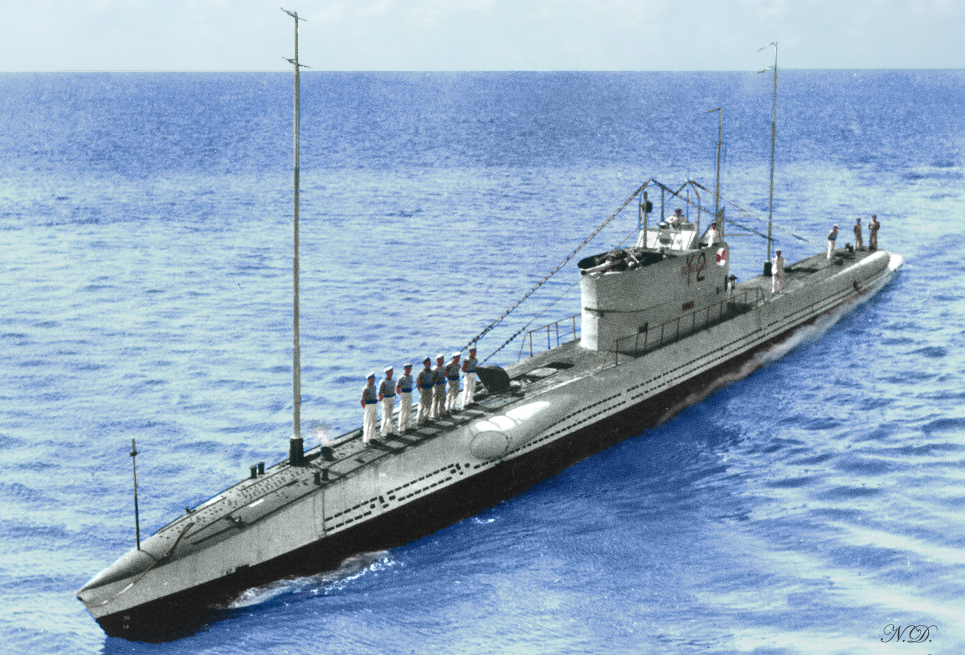 At the beginning of the Second World War, Greece had six submarines. The most well-known of them is Y-2 "Papanikolis", which was built at the Chantiers de la Loire shipyards between 1925 and 1927. It was the one of only two Greek submarines that survived the war. Today, tourists can see its bridge outside the Hellenic Maritime Museum and can visit the cave in Lefkada, which is rumoured to be the hideout of Papanikolis during the Greco-Italian war. A 1971 Greek movie is based on its exploits, which included about 15,000 tons of enemy shipping sunk and a number of special operations in the Aegean.
From a 2006 interview with the last surviving member of the crew, N. Tasiakos. Presented in the form of memoirs and first published in the newspaper "Makedonia": (translated from Greek)
"-Where are you from? asked the officer.
-Drakotrypa Karditsas, I replied
-Where is this village?
-South Pindos (a mountain)
-And you want to enlist in the navy? Tell me, what is a thermastis?
-The one who puts coal in the engine.
-You are in!
...

Three years later (1939), I applied for a transfer to the submarines. I was first in Nereus, then Proteus and finally Papanikolis, where the captain was that brave Miltos Iatridis...
The Germans had announced that any ship that isn't in its base would be bombed, and so we received a message from headquarters to return to base. ... On 27 October 1940, I was given a motorcycle and was ordered to inform all members of the crew that were on leave to return to base. The next day, the Greco-Italian war started. We were equipped with torpedoes and were sent to patrol the Adriatic Sea. On 22 December 1940, we met an Italian cargo ship, Antonietta, that was carrying supplies to Albania. We rammed it and when that failed to sink it, we burned it. We captured the 6 crew and I remember that the Italians thought we were English. They didn't believe that the Greeks had submarines in their 'mare nostrum'. Michalev, who was from Corfu and could speak Italian, learned from the ship's captain that the next day there would be an Italian convoy in the area. At 12 noon, we spotted the convoy. Cargo ships, destroyers and aircraft. We took a good position inside their right side and fired four torpedoes. All four hit the target. We heard the explosions and stayed at 30m (depth). The Italians attacked us with depth charges that were set at 100 m and had a radius of 50 m. So, having stayed at 30 m, we were relatively safe. Both aircraft and destroyers were attacking us. I remember very well one of the depth charges settling on our stern. I informed the captain that a suspicious object was on our stern and he ordered a slight move, so that we get rid of it. The depth charge fell over. It didn't explode, because it wasn't 100 m. To remain silent, we were not using our engines, so we had been carried north by the streams and we had reached Yugoslavia. It must have been midnight when we managed to resurface. I must add here that our submarines were pretty old and they needed to surface at least every 17-18 hours for air. Papanikolis had been bought from the French in 1926 as a training ship. Captain Iatridis informed the Naval Command of our success and we returned to Piraeus. There, we were welcomed as heroes, with naval marches and patriotic songs. The same day, Iatridis was promoted."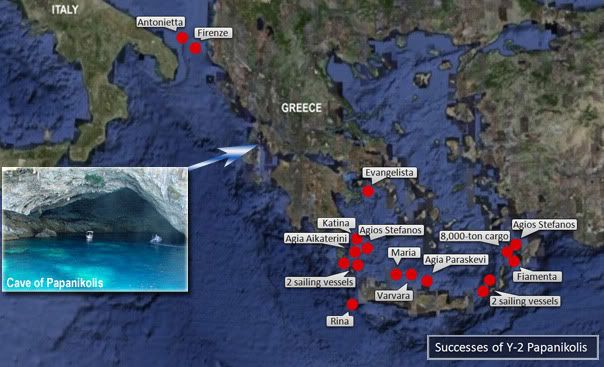 Operational History
1925 - Laid down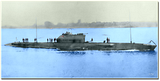 19 Nov. 1926 - Launched
21 Dec. 1927 - Commissioned. First captain is P. Vandoros.
1940 - Lt Cdr Miltiadis Iatridis becomes captain and carries out 4-6 war patrols against the Italians (until 1941)
22 Dec. 1940 - Rams and sinks Italian motor sailer Antonietta. About 30 nautical miles east of Brindisi in position 40 40'N, 18 40'E. One of Antonietta's mechanics gives a map of the minefields of the Adriatic Sea to the Greeks.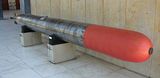 24 Dec. 1940 - Torpedoes and sinks 3,952-ton troop carrier Firenze in the Adriatic about 12 nautical miles west-north-west of Saseno Island in position 40 34'N, 19 02'E
Apr. 1941 - Flees to the Middle East to avoid German capture
1941 - Lt Nikolaos Roussen becomes captain
1 Jan. 1942 - Lt A. Panagiotou becomes captain (until 13 Mar. 1942)
14 Mar. 1942 - Lt Cdr P. Libas becomes captain (until 20 Apr. 1942)

20 Apr. 1942 - Cdr Athanasios Spanidis becomes captain (until 10 Oct. 1942)
11 Jun. 1942 - Sinks a small sailing vessel with gunfire off Cape Malea, Southern Greece
12 Jun. 1942 - Sinks the Greek sailing vessels Katina and Agia Aikaterini with gunfire off Cape Malea
13 Jun. 1942 - Sinks a Greek sailing vessel with gunfire off Cape Malea
14 Jun. 1942 - Sinks the Greek sailing vessel Evangelista with gunfire off Nafplia
15 Jun. 1942 - Sinks two sailing vessels with gunfire off Scarpanto
Jun. 1942 - Disembarks SOE agents in Crete and receives a team of 15 New Zealand commandos
31 Aug. - 15 Sep - Unsuccessfully attacks a 8,000-ton oil carrier. Disembarks two mixed British-Greek commando teams at Rhodes, which succeed in attacking the island's two airfields and destroying a number of enemy aircraft
10 Oct. 1942 - Lt Nikolaos Roussen becomes captain (until 1943)
Nov. 1942 - Offloads men and equipment at Crete
30 Nov. 1942 - Sinks a 8,000-ton cargo vessel at Alimia islet, near Rhodes
17 Jan. 1943 - Carries agents and equipment to Hydra. Then captures 220-ton sailing vessel Agios Stefanos off Cape Malea, and mans it with part of her crew, which sails it to Alexandria
18 Jan. 1943 - Sinks 150-ton sailing vessel Agia Paraskevi with gunfire north of Iraklio, Crete
16 Mar. 1943 - Sinks Greek sailing vessels Agios Stefanos and Fiamenta with gunfire and by ramming, near Rhodes
18 Mar. 1943 - Sinks 200-ton sailing vessel Rina with gunfire and by ramming, S.E. of Cape Krio
8 May 1943 - sinks the Italian sailing vessels Varvara and Maria, totalling 400 tons, with gunfire north of Crete
1944 - Lt. Ch. Botsaris becomes captain
Oct. 1944 - Having survived the war, Papanikolis returns to Greece after the liberation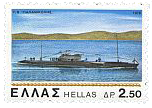 1945 - Papanikolis is decommissioned. Hull is sold for scrap. Conning tower is preserved (initially at the Submarine Naval Base and currently at the Hellenic Maritime Museum, Piraeus)


Specifications
Y-2 Papanikolis submarine of the Katsonis class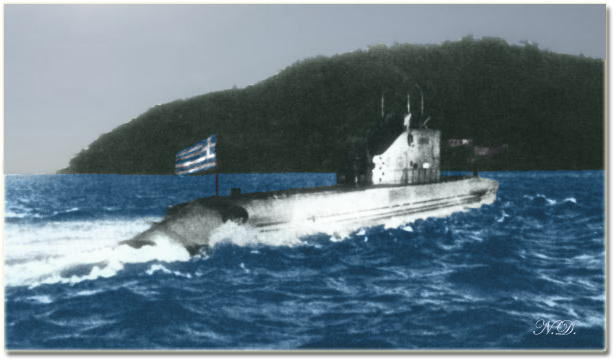 Displacement: Surfaced 576 tons, Submerged 775 tons
Length: 62.4 m
Beam: 5.3 m
Draft: 3.35 m
Propulsion: 2 × 2-cycle Schneider-Carels diesel 1,300hp, 2 × electric 1,000hp
Complement: 30 (39?)
Max. Dive: 73 m
Speed: (Surf.) 14 knots, (Subm.) 9.5 knots
Range: (Surf.) 3,500 nm @ 10 knots, (Subm.) 100 nm @ 5 knots
Armament: 6x 533mm torpedo tubes (2 internal bow, 2 external bow, 2 external stern; 7 torpedoes)
For gamers and game designers
In 1940, Papanikolis was already an aged submarine with mechanical problems.

For modellers
A model of Papanikolis from the Hellenic Maritime Museum



A scratchbuilt model of Papanikolis made by D. Georgiadis