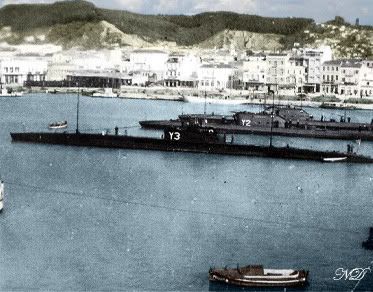 A Loire-Simonot type submarine, similar to the earlier Katsonis class, Y-3 Proteus was the first Greek submarine to be lost in World War 2. It was built in Nantes, at the At. and Ch. De La Loire, at a cost of 119,000 francs for the Greeks.
Having sunk early, Proteus was the only submarine of her class that didn't serve under the control of the Royal Navy during the war.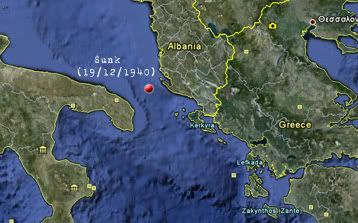 Operational History

24 Oct. 1927 - Launched
31 Aug 1929 - Commissioned.
30 Oct. 1940 - 5 Nov. 1940 - First patrol. Patraikos Gulf. 152 hours (56 subm./96 surf.)
15 Nov. 1940 - 24 Nov. 1940 - Second patrol. Adriatic. 214 hours (98 Subm./116 surf.)
25 Dec. 1940 - 29 Dec. 1940 - Third patrol. Adriatic. 51 hours (20 Subm./31 surf.)
19 Dec. 1940 - Locates Italian convoy. Torpedoes and sinks Italian cargo ship "Sardegna" (11,452 GRT). Very quickly, Proteus is spotted by the Italian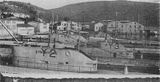 torpedoboat Antares. Antares drops 11 depth charges on Proteus, forces it to surface and rams it 40 miles East of Brindisi (40º31'N, 19º02'E). All hands lost.
10 Jan. 1941 - At 09:25, the Italian radio announces that a Greek submarine was sunk three weeks ago. On 19 Dec. 1940 Greek steamboat "Ionia" had intercepted the SSS distess signal of "Sardegna". As a result the Greeks were aware of the success of Proteus, but not of its fate until the Italian radio announcement.



Specifications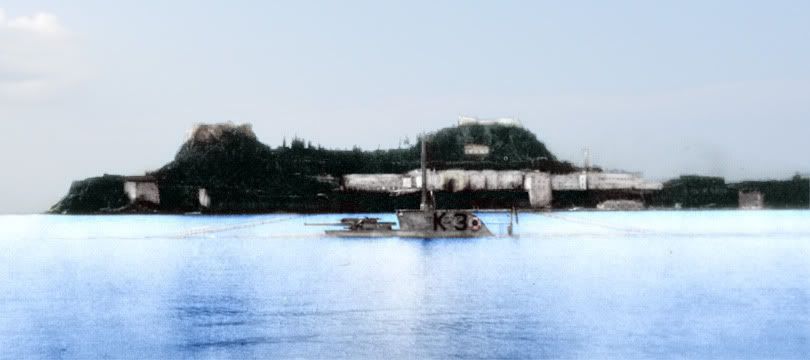 Y-3 Proteus submarine of the Proteus class
Displacement: Surfaced 750 tons, Submerged 960 tons
Length: 68.6 m
Beam: 5.73 m
Draft: 4.18 m
Propulsion: 2-shaft Sulzer diesels plus 2 electric motors, 1420bhp/1200shp
Complement: 41 - 45
Max. Dive: 80 m
Speed: (Surf.) 14 knots, (Subm.) 9.5 knots
Range: (Surf.) 4,000 nm @ 10 knots, (Subm.) 100 nm @ 5 knots
Armament: 100mm gun at the forward end of the conning tower, at casing level (150 shells). No external tubes. 8x 533mm torpedo tubes (6 bow, 2 stern; 8 torpedoes)
The crew, when sunk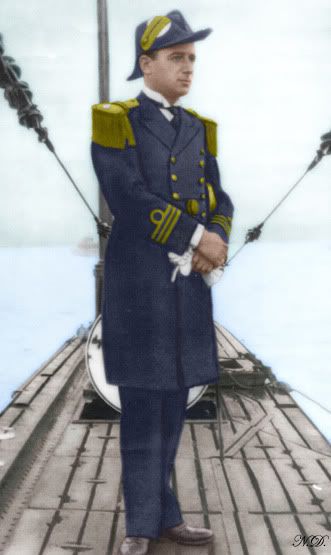 Michail Chatzikonstantis (top photo - Born 1906, Piraeus, father: Antonios)

Georgios Maridakis (second photo - Born 1910, Chania)

Andreas Tournas (third photo - Born 1912, Tripoli, father: Konstantinos)

Theodoros Konidis (bottom photo - Born 1913, Konstantinoi Messinias, father: Antonios)
Kyriakos Nikolarakos
Dionysios Tilemaxos
Antonios Kafetzis
Ioannis Kyriazis
Thrasyvoulos Tsatsas
Anastasios Ntontos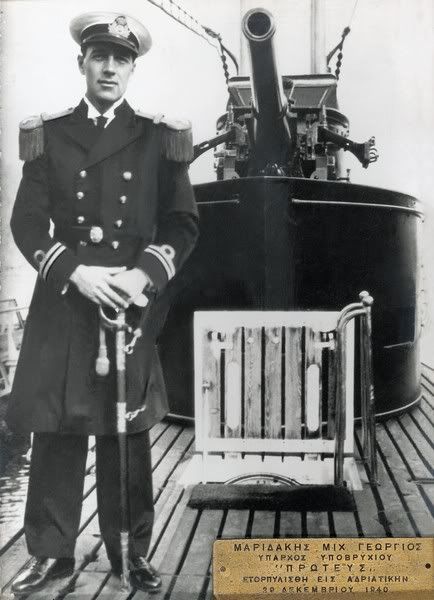 Vasilios Georgiou
Achilleus Toulis
Theodoros Sanoudos
Dimitrios Giannelis
Anastasios Anastasopoulos
Georgios Tsalikis
Panagiotis Sklavos
Ilias Katsouranis
Napoleon Anthis
Dionysios Anninos
Nikolaos Armenis
Spyridonas Vlachos
Pantelis Voutsinas
Spyridon Gialypsos
Stamatios Giatrakos
Charalampos Delis
Konstantinos Dimitrakopoulos

Christos Zafiris
Panagiotis Theodosis
Georgios Kapsos
Emmanuil Levantis
Georgios Liatsis
Panagiotis Minas
Georgios Morianos
Stavros Mousoulis
Dimitrios Orfanios
Zacharias Pantaleon
Michail Panagis
Panagiotis Parasxis
Eleftherios Perdikouris
Apostolos Skarakis
Georgios Tilemaxos
Aristidis Tousas
Panagiotis Fourikis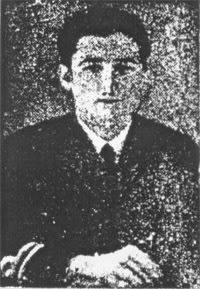 Petros Chatzidimitriou
Konstantinos Cheliotis
Georgios Chrysanthopoulos
Petros Psyllas
For gamers and game designers
In 1940, Proteus was already an aged submarine. On paper, it was marginally better than Papanikolis and Katsonis.
For modellers
Proteus has been included in the Axis & Allies Naval Miniatures game (1:1800 scale). It comes originally in light grey colour. The photo below shows my repainted black Proteus.




The photo below is from the Hellenic Maritime Museum in Athens.