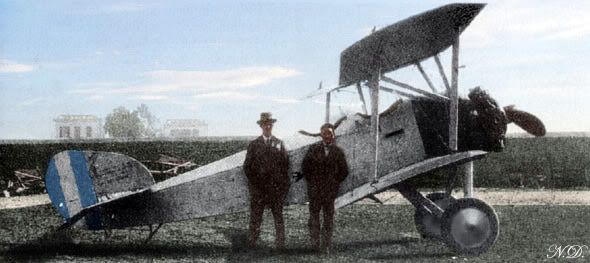 The Chelidon was designed and built in the State Aircraft Factory (KEA) by a Greek team under the supervision of Charles H. Lowe-Wylde, according to the Navy's specifications. Its development was completed in an impessive eight weeks. It was a two-seater military biplane designed mainly for advanced training and reconnaissance, and with the option of conversion into a hydroplane.
After testing though, it was considered inferior to its contemporary alternatives and production was cancelled. The Navy would be equipped instead with Armstrong Whitworth Atlas biplanes. KEA would go on building British-designed aircraft under license, including
Avro 504
, Atlas and 621 Tutor, but no other Greek-designed aircraft.
The photo above shows most probably C.H. Lowe-Wylde and Blackburn's test pilot (
Herbert Gardner "Tiny" Travers
).
Operational History
Dec. 1926 - The navy orders 18 aircraft
11 Feb. 1927 - First flight of the prototype.
23 May 1927 - Last three takeoffs from Tatoi. The last flight lasted 30 minutes and C.H.Wylde himself was in the back seat.
After a three month test flight period, the aircraft's performance is deemed inferior to alternative options, and the order is cancelled. The prototype is possibly used for technical personnel training at KEA and is most probably scrapped in 1938.


Specifications
KEA Chelidon
Length: 5.79 m
Wingspan: 8.17 m
Engine: 1x Salmson (120 hp)
Speed: ~150 km/h
Crew: 2
For Gamers and Game designers With production having been cancelled, the sole KEA Chelidon prototype was possibly used as a training platform for the factory's engineers.

For Modellers
A profile by Dimitris Georgiadis: