During the Greco-Italian war, the Greeks had the significant advantage of support from the civilians and especially the women of nearby villages.
For example, the Greek army had published instructions for knitting socks,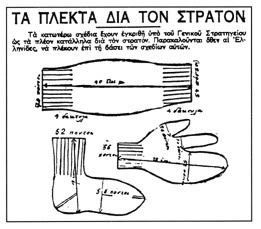 gloves and scarves, so that they would be "official issue" and the same for all soldiers. Out of all Greek women, however, it was the women of the Pindos mountains that standed out by bringing desperately needed supplies to the front under gruelling winter conditions and above 2 km altitude.
From Argiris Balatsos's War Diary (in "Martyries 1940-1941", Hatzipera-Fafaliou, Athens, Kedros, 1982, p. 103):
"7 November 1940. ... I met women who were carrying ammunition. One was 88 years old. Another one told me that she had locked the kid in the shed, so that she could come to help the army. During the night, I saw an old woman taking care of the two kids, while their mother was baking bread for the army under the candle light.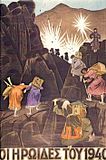 The snow, the ice, the dreadful cold, did not seem to bother them. They all wanted to help the army where the supply trucks couldn't reach. True wonderwomen. What a difference with the women of the cities!"
By Takis E. Papagiannopoulos (in "Martyries 1940-1941", Hatzipera-Fafaliou, Athens, Kedros, 1982, p. 104):
"... When they reached the River Voyiousa (Aoos) and the fearless women saw that the raging waters were making the bridge engineers' job difficult, they spontaneously did something that was repeated later at Kalamas and Drinos. They entered the waters, held each other firmly from the shoulders and formed a human wall to break the force of the waters where the bridge engineers were working."
The monument of the Woman of Pindos: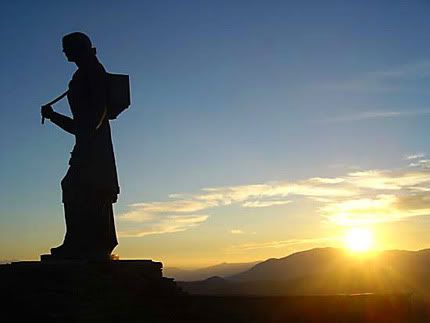 By Nikiforos Vrettakos ("Γυναίκες της Πίνδου", in Greek):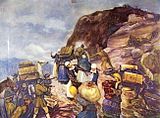 "Κι οι μάνες τα κοφτά γκρεμνά σαν Παναγιές τ' ανέβαιναν.
Με την ευκή στον ώμο τους κατά το γιό πηγαίναν
και τις αεροτραμπάλιζε ο άνεμος φορτωμένες
κι έλυνε τα τσεμπέρια τους κι έπαιρνε τα μαλλιά τους
κι έδερνε τα φουστάνια τους και τις σπαθοκοπούσε,
μ' αυτές αντροπατάγανε, ψηλά, πέτρα την πέτρα
κι ανηφορίζαν στη γραμμή, όσο που μες στα σύννεφα
χάνονταν ορθομέτωπες η μιά πίσω απ' την άλλη".
In his memoirs, artillery commander Asimakopoulos mentions the names of women of the village of K. Pedina who helped his unit reach the Peak of St. Vlasis.
Young women: LEFTERIA G. THEODORIOU, GALATEIA Nap. TRIPSA, THALEIA K. OIKONOMIDOU, PANORAIA K. TSANTI, ANNA G. KASKA and others.
Women: MEROPI CHR. TOULOUPI, ISMINI TH. KALANTZI, ATHINA KYR. LEFKADITI,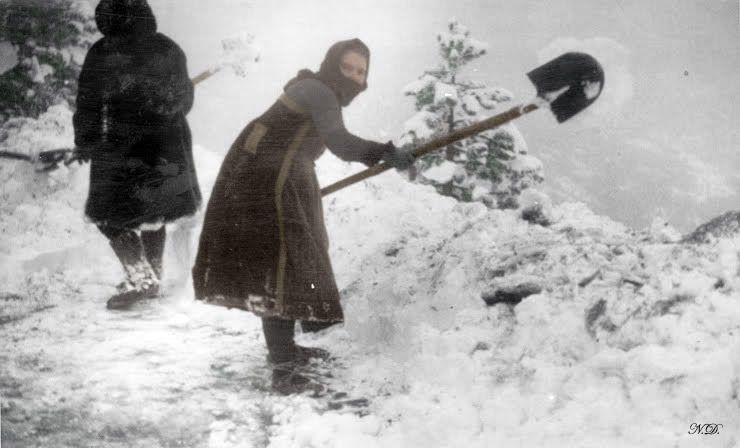 ARIADNI D. GOGOLOU, THOUSIA ANDREA VOGLI, LAKENA AP. ARANITI, EVRIDIKI CHR. GRAZIOU, LOUKRITIA PAN. CHACHARI, RINA K. GEORGIOU, THEODOULA D. DACHRI, NIKI TH. KOULI, MANI GRABALI, IPPOLITI SIOUSIOU, KLEIO SKEPARIOTI, SOULA CHOULIARA, POLIMNIA GABALI, KIRIAKO GABALI, VGENO SKEPARIOTI and others.
In a book on the role of women of Epirus in 1940, E. Tzialla-Mantziou mentions the following names:
APERGI CHRISANTHI, VOUTZATI ANTHOULA, YIOTA EVAGELI, GRIMOTSI-KISI EVDOXIA, MOUTZOULI ATHINA (Fourka), GOUVELI ASPASIA (Fourka), ZIOGA ASPASIA (Fourka), IOANNIDI FROSO (TSEPELOVO), KARAGIANNI ANDROMACHI (Asprangeloi), KAPSALI ARTEMISIA, TZIMORANGA EVAGELI, FASOULI AGORO (LIKORACHI), FRAGOU ZOITSA (Fourka Konitsis).
From an unknown source, the following list also exists:
In Zouzouli: ADAMOU TRIANTAFYLLIA, GEORGIOU HAIDO, DIMITROU ROUSA, EVAGELOU EVAGELI, EVAGELOU GLYKERIA, KOSTARA EKATERINI, LAZOPOULOU EFTIXIA, DINOLAZOU VAGELI, PAPAVASILIOU ASIMINA, PAPATHOMA EVGENIA.
KOSTARA G. XANTHI, KOSTOPOULOU MARIGO, ZISOU RISANO, PAPADAMOU SOULTANA and VASILIKI and others.
In Eftachori: VLACHOU TRIANTAFYLLIA, ZOUTSOU ALEKSANDRA, TZIAVA SOULTANA, TSAPRAZI KIRATSO.
A diorama from the National War Museum, Athens: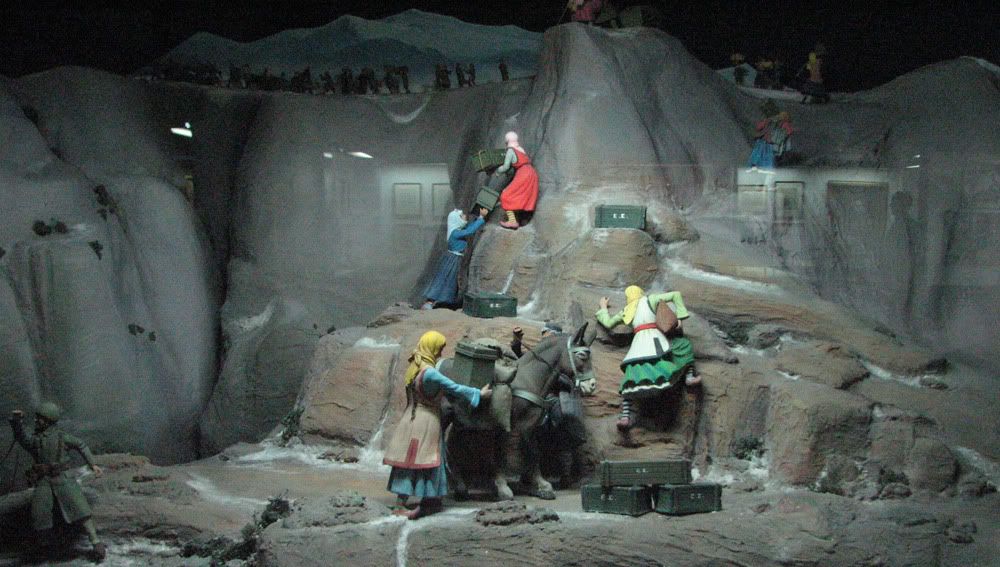 And a life-size 10.6m exhibit from Vrelli Museum, Ioannina, Greece: