The "Velos" was the first airplane that was built under license in Greece. The basic design of the Blackburn Dart was developed into a two-seater to meet a Greek Navy requirement for a coastal defence seaplane that could be used for bombing, torpedo launching, reconnaissance and training. The aircraft became the T.3 Velos, a twin-float seaplane, which differed from the standard Dart T.2 in having a two-seat cockpit with a rear-mounted Lewis Gun, an increased weapons load and provisions to fly as either a seaplane with floats or with a conventional land undercarriage. In 1925, four were built at Brough Aerodrome for the Greek Navy. Later in the same year, the aircraft was chosen as the first licence-built aircraft in Greece in a factory built by Blackburn and operated under a five-year contract. The Aircraft Factory, later renamed the State Aircraft Factory or Greek National Aircraft Factory, produced 12 Greek-built T.3A Velos aircraft with a raised rear cockpit to give an improved field of fire for the observer and a larger radiator. They were equipped with specialised equipment like electric intercom system, a 200 mile range radio and bomb rails. The first of the production order flew in March 1926.
The Blackburn T.3 Velos fulfilled an operational role as a coastal defence/torpedo bomber in the Naval Air Component Squadrons in Greece and helped establish an indigenous aviation industry. The aircraft began operations in 1926 with the Greek Navy deployed at Tatoi Aerodrome and Phaliron Bay, Athens. It remained in squadron use until 1934 with all examples retired by 1936. The Greeks operated 16 Velos aircraft in total (4 made in Britain and 12 made in Greece).
Operational History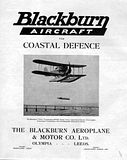 1925 - Blackburn Aeroplane Co. and the Greek government conclude an agreement whereby they undertake to organise an aircraft factory at Phaliron, near Athens. The factory operates under the control of an inspection service belonging to the Greek Air Ministry. The general manager is G.W. Cannel and the technical manager is Herbert B. Bentley, previously manager of the company's establishment at Brough, East Yorkshire. The factory in Phaliron will construct Blackburn Velos torpedo-planes, Armstrong Whitworth Atlas two-seat fighters, and a number of Avro sea and land training aircraft (504-O and 504-N).
March 1926 - Maiden flight of the first Greek-built "Velos", named "Hope". 12 airplanes are to be constructed in total at Phaliron Airplane Factory, introducing for the first time in Greece, the metallic structure airplane construction technology. They will be used mainly with fixed landing gear.
Late 1930s - Withdrawn from service.


Specifications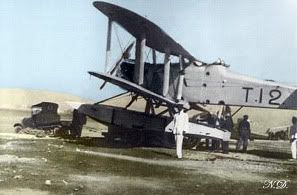 Blackburn T.3 Velos torpedo seaplane
Length: 10.82 m
Height: 4.16 m
Wingspan: 14.78 m
Wing area: 654 sqr ft
Engine: 1 x Napier Lion V or Napier Lion IIB (450 hp)
Armament: 1 × .303 in (7.7 mm) Lewis gun, up to 4x100 kg bombs or one 457mm torpedo
Crew: 2

Blackburn T.3A Velos landplane
Length: 10.82 m
Height: 3.73 m
Wingspan: 14.78 m
Wing area: 654 sqr ft
Weight: (empty) 1,711 kg, (max take-off) 2,895 kg
Engine: 1 x Napier Lion V or Napier Lion IIB (450 hp)
Armament: 1 × .303 in (7.7 mm) Lewis gun, up to 4x104 kg bombs
Endurance: 4.5 hrs
Speed: (max) 172 km/h , (cruise) 114 km/h
Ceiling: 4,300 m
Climb rate: 3.2 m/s
Crew: 2
Almost identical was the Blackburn Swift (export version of Blackburn Dart) that Greece received at about the same time. The one below has the number T23.:
For Gamers and Game designers
The T.3 Velos was never tested in battle and it is difficult to assess how useful it could be. It was extremely slow even for its time, but as the world war 2 successes of the Fairey Swordfish indicate, a slow torpedo plane is still a torpedo plane.


For Modellers
Profiles of the Blackburn Velos (unknown source):