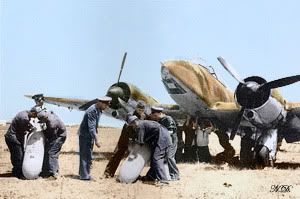 In January 1938, the Greeks signed an agreement with the French, for the delivery of 24 twin-engine Potez 633 B2 Grec bombers, with a deadline of one year. 13 aircraft were delivered, one of which was destroyed with French crew on the delivery to the Tanagra Air Base. The remaining 11 were confiscated by the French upon the outbreak of the war. The Greek Potez 633 had bombing configuration, except one that was delivered with photographic equipment. Their equipment included Hydraulic variable-paced propellers, F.R. radio, periscopic Bronzavia type bombing sight, OPL 36 fixed gunner sight, and GPU rails for four or two bombs. They took part in the operations in 1940 - 1941, with the 31st Bombing Squadron, until their final immobilisation due to lack of spare parts.
Operational History
Jan. 1938 - 24 aircraft ordered from France
1939 - Only 12 are delivered, one has been destroyed by the French crew delivering it and 11 have been confiscated by the French due to the outbreak of the war.
1940-1941 - At the beginning of the war, No. 31 Bomber Squadron has eight serviceable Potez 633 B2 and is stationed at Niamata, Larissa. The Squadron's flying personnel consists of 23 officers and non commissioned officers. The Potez 633 aircraft take part in numerous bombing and reconnaissance operations until they are grounded due to lack of spares, shortly before the arrival of the Germans.


Air Kills
CONFIRMED 22 Nov. 1940 - Chr. Christidis (Potez 633, rear gunner) downs a Fiat fighter over Lake Maliki.


Specifications
Potez 633 B2 Grec
Length: 11.07 m
Height: 3.62 m
Wingspan: 16 m
Wing Area: 32.7 sq. ft
Weight: (max) 4,500 kg, (empty) 2,450 kg
Engines: 2x Gnome Rhone 14 M6/M7 700 hp
Range: 1,300km
Service Ceiling: 8,000 m
Speed: 393 km/h at sea level, 439 km/h at 4200 m Armament: FN-Browning 7,92 mm machine gun, 8 x 60 kg internal bomb payload and 4 x 60 kg external bomb payload or 2 x 220 kg on external rail carriers
Crew: 2
For Gamers and Game designers
Although a relatively modern type, the Potez 633 was too slow and could not carry large bombloads. Its contempary German equivalent was the BF 110 C, which was 100 km/h faster with the same bombload.


For Modellers
The 12 Greek Potez 633 were the B221-B231, B233 and B234. Originally in natural metal, they were later painted in the typical Greek wartime colours of green-brown-light blue. The following are some models and paintschemes from various sources:

B 221
A profile by Michail Solanakis and a model by Dimitris Georgiadis in wartime colours:




B 222
A profile by Richard Caruana:




B 223
One of the few Greek world war 2 aircraft released as ready-to-build model kit. This one is from Azur in 1/72: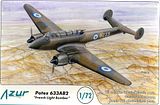 B 235




Additional photos