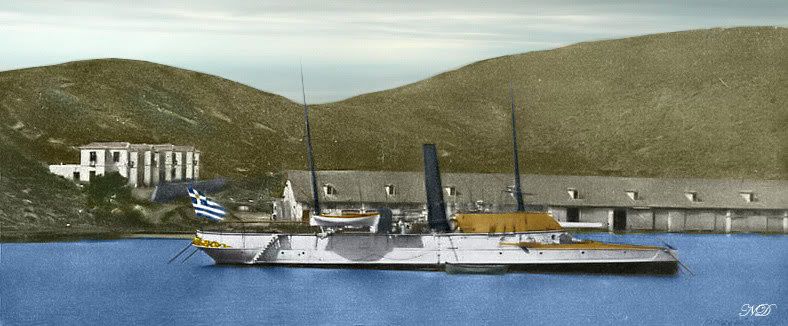 Built specifically for the shallow waters of the Amvrakikos Gulf, Aktion and her sister "Amvrakia" saw action in the gulf during the 1897 and Balkan Wars. Aktion was called Spetses until 1889 when the Greeks decided to use the name for the newer Battleship they had ordered.
Operational History
1881 - Built by Blackwall Dockyards in the UK and named "Spetses".
1889 - Renamed "Aktion".
1897 - Commanded by Lt Cdr E. Tombazis, she sees action against the Turks.
1912-1913 - Commanded by Lt Cdr E. Lambadarios, she sees action against the Turks.
World War I - Used for the service of the Piraeus and Keratsini net barrage.
1919 - Decommissioned after the end of World War I.



Specifications
Steam Gunboat "Aktion"
Displacement: 433 tons
Propulsion: 380hp steam engine
Length: 39m
Width: 7.6m
Draft: 2.9m
Speed: 11 knots
Armament: (initially) 1x270mm/30cal Krupp gun, (later) 1x 6inch gun and a small quick-firing gun.

For Gamers and Game designers
A gunboat that was designed for shallow waters. Despite its massive size, her initial 270mm gun was of little use against distant targets, as one needed to turn the whole ship to aim the gun.



For Modellers
A model of Amvrakia, Aktion's sistership, at the Hellenic Maritime Museum, Piraeus: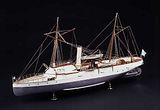 A model of Amvrakia, Aktion's sistership, by TonyH of www.shipmodels.info: