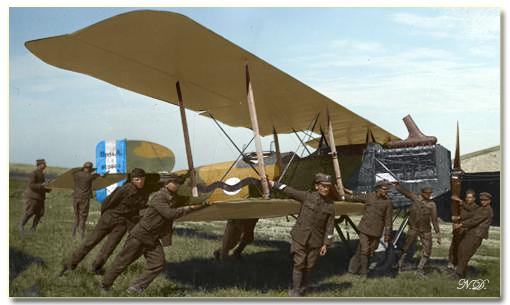 French built biplane bomber and reconnaissance aircraft that entered French and Greek service in 1917. It equipped the 532 and 533 Squadrons operating in the Macedonian front. It remained in service throughout the 1920s before becoming a trainer for observers in 1931.
Operational History

November 1917 - The Breguet XIV enters Greek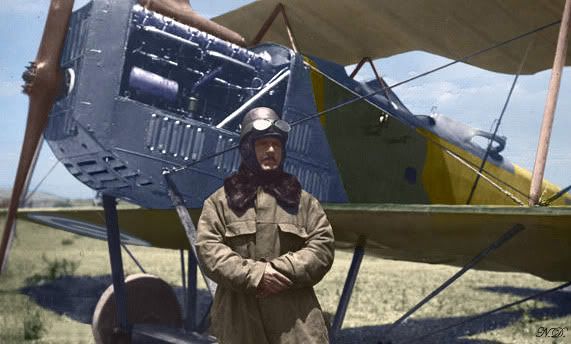 service, equipping the 532 and 533 Squadrons which operate in the Macedonian front.
22 Dec. 1918 - Commander Denain lends his personal plane to A. Moraitinis, the leader of the Greek Navy Air Service, to fly from Thessaloniki to Phaliron. The plane never arrives to its destination. A month later Moraitinis is declared dead.
21 Sep. 1921 - A Breguet XIV A2 is captured by the Turks and will serve from now on with them. It takes the name "Sakarya".
17 Apr. 1922 - On the third attempt to land, a Greek Bre XIV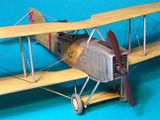 crashes and burns at Afion Kara Hissar, with one of two crew dead.
22 Aug. 1922 - A second Breguet XIV A2 is forced to land due to enemy fire and is captured by the Turks. It will serve from now on with them and it takes the name "Garipçe". These are the first two Breguets XIV A2 in Turkish service. After the foundation of the Turkish Republic another 16 will be bought from the French and will serve Turkey until 1926.
October 1931 - From now on, 7 Bre XIV aircraft are used for the training of observers.
Specifications

Breguet XIV A2 Reconnaissance Length: 8.87 m Height: 3.3 m Wing area: 47.5 m² Wingspan: 12.4 m Weight: 1,010 kg (empty), 1,536 kg (max takeoff) Engine: 1x Renault 12Fe, 224 kW (300 hp) Service Ceiling: 6,000 m Speed: 184 km/h Armament: 1 fixed 0.303-in (7.7-mm) Vickers machine gun on fuselage port side, 2 ring-mounted 0.303-in (7.7-mm) Lewis machine guns in observer's cockpit, 40 Kg bomb payload. Range: 3 hours Crew: 2
Specifications
Breguet XIV B2 Bomber Length: 8.87 m Height: 3.3 m Wing area: 47.50 m² Wingspan: 14.36 m Weight: 1,010 kg Engine: 1x Renault 12Fe, 224 kW (300 hp) Service Ceiling: 6,000 m Rate of climb: 292 m/s Wing loading: 32 kg/m² Power/mass: 0.14 W/kg (0.09 hp/lb) Speed: 175 km/h Range: 900 km Armament: 1x fixed 7.7 mm (.303 in) Vickers machine gun, 2x flexible 7.7 mm (.303 in) Lewis Gun for observer, 300 Kg bomb payload. Crew: 2

For Gamers and Game designers
Apart from its widespread usage, it was noteworthy for becoming the first aircraft in mass production to use large amounts of metal rather than wood in its structure. This allowed the airframe to be lighter than a wooden airframe of the same strength, in turn making the aircraft very fast and agile for its size, able to outrun many of the fighters of the day. Its strong construction was able to sustain much damage, it was easy to handle and had good performance. The Breguet 14 is considered one of the best aircraft of World War I.

For Modellers
A profile of the No3846 Breguet XIV A2 that fought in Asia Minor in 1921, taken from Issue No. 15 of Insignia Magazine:

The text is from the Insignia Magazine: "This aircraft was one of at least 30 Breguet 14 A2 and B2 types which served with the joint French-Hellenic 522 and 523 Reconnaissance-Bomber Squadrons. Finished in a Green and Brown camouflage scheme, with Natural Metal forward and upper fuselage areas. Lower flying surfaces are Clear Doped Linen. Struts, undercarriage legs and wheel covers are Light Grey. Greek roundels in Blue and White, adapted from French roundels, are worn on the upper and lower wings as well as the fuselage. The Asia-Minor 'wavy line' theatre marking in Dark Grey/Black partially obscures the fuselage roundel. Serial number and rudder data are Black."

A model exhibited in the National War Museum, Athens.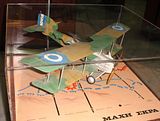 A Breguet XIV A2 from AZ Models (seems to be No3844):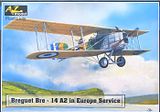 A 1:33 paper model by Fitter's Models: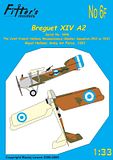 A Microsoft Flight Simulator model by Manuele Villa: