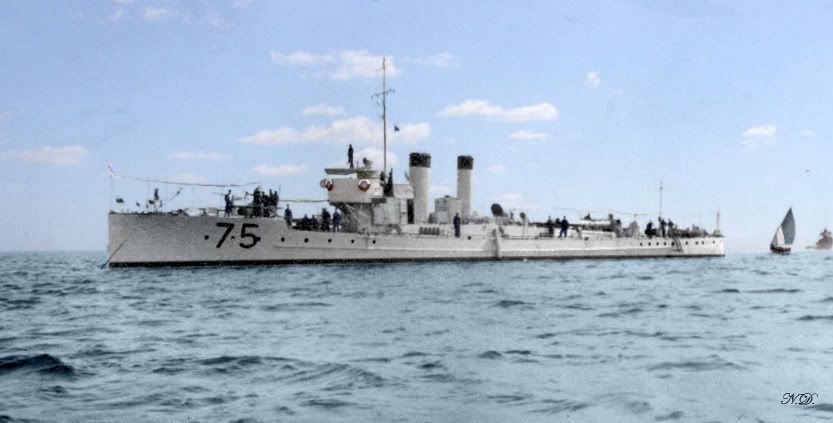 Formerly the Austrohungarian Fiume-class torpedo boat SMS Tb 94 F., Proussa, together with her two sister ships "Panormos" and "Pergamos", was transferred to Greece in 1919 as war reparation from the Central Powers. Little is known about Proussa in Greek service other than that she was sunk in Corfu during the 4 April 1941 Italian bombing of the port. She stayed half-sunk for quite a while. Later, when the Italians were in control of the island, they wrote "V" (for "Vinceremo" - we will win) on one of the funnels. According to one version of the story, the Italians tried to raise the ship, but she sank while being towed.
Operational History
In Austro-Hungarian Service
30 Nov. 1914 - Laid down at the Ganz & Co.- Danubius shipyard.
1915 - Commissioned. Serves the Austro-Hungarian Empire until the end of World War I.

In Greek Service
1919 - Transfered to Greece as war reparations.
3 April 1941 - Sails from Patra during the evening. Captain: N. Kotsilyris.
4 April 1941 - Arrives early morning at Agioi Saranta for Rear Admiral D. Economou to inspect the naval command there. For a few hours, she stays by the coast to avoid detection by enemy aircraft. Around noon, she sails towards Corfu where she arrives at 14:10 for D. Economou to inspect the naval command there and find out how the minesweepers Strymon and Aliakmon were damaged a few days earlier. Proussa stays 100 m from the dock (between Kafe Gyali and Vido). The Rear Admiral disembarks, but before his boat reaches land, Proussa is attacked by nine (or 6 according to some sources) Italian Ju-87 Pichiatelli belonging to the 239th Sqn, 97th Dive-bombing group (Captain Mario Larket) from Galatina, near Lecce. Evasion manoeuvres are attempted, but the ship's engines are damaged by the near misses of the Pichiatelli that were dive bombing. The AA gun managed to fire only 7 rounds. The Pichiatelli dropped five 500kg bombs at distances of 5 to 100m from the

ship. After the attack finishes, the Greeks pull the ship with ropes to the dock. The fire service, the auxiliary "Evangelistria" and several civilians try to save the ship until 11 o'clock, but unsuccessfully. Proussa settles at a depth of 4 m at the Kafe Gyali dock.
During the attack, the crew is said to have managed to disarm the torpedoes on Proussa to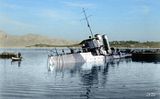 reduce the chance of catastrophic damage from a bomb hit. 8 crew are wounded, but nobody is killed.
This is one of three attacks carried out by this air group against Greek naval vessels this day, including the 932-ton cargo ship "Souzana" that was skip-bombed and sunk during the morning.



Specifications
Fiume class Torpedo Boat "Proussa"
Displacement: 243 tons (standard)
Propulsion: 2 Yarrow water-tube boilers, 2 AEG-Curtis steam turbines, 2 shafts. 5,000 / 6,000 shp
Length: 57.76 m
Width: 5.8 m
Draft: 1.5 m
Speed: 31 knots (initially), 32 knots (after 1925) [other sources have it at 28 knots]
Armament: 2x Skoda 70 mm / 30-cal guns, 1x 8 mm AA machine gun (added in 1914), 3x or 4x 450 mm torpedo tubes (2x2).
Crew: 41

For Gamers and Game designers
While in 1919 she was a relatively modern torpedo boat, by World War II, Proussa was completely outclassed by her Italian counterparts. However, she was not slow and if undetected she could still use her torpedoes.



For Modellers
A profile of the Fiume class torpedo boats from an unknown source: