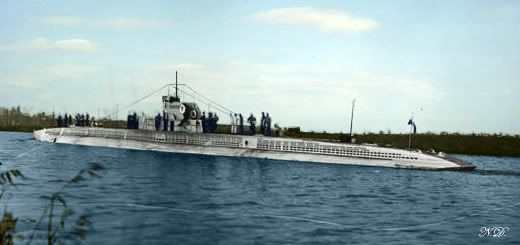 Being one of four Loire-Simonot type submarines in the Greek Navy, Glafkos was a sister of Y-3 Proteus and similar to the earlier Katsonis class. Glafkos was undergoing major repairs and did not participate in any patrols during the Greco-Italian war. She escaped to Alexandria and carried two war patrols under Cdr. Arslanoglou. In 1942, she was sunk by German bombers while stationed for repairs in the port of Malta.
Operational History

1928 - Launched. It is the only submarine of the class that is built in the Chantiers Navals Francais (Blainville, France). The other three were built in the Chantiers de la Loire.


17 Nov. 1930 - Commissioned.
1 Dec. 1930 - Received by A. Zangas and G. Labrinopoulos
1935 - Damaged during the political upheavals of 1935. It is possibly because of these damages that Glafkos is undergoing repairs and is out of action during the Greco-Italian war.
1940 - The new commander of Glafkos is Vaker.
1941 - The new commander of Glafkos is D. Zeppos.
19-23 Apr. 1941 - Glafkos escapes to Alexandria. New commander is V. Arslanoglou.
12 Jul. 1941 - Begins first wartime patrol in the Dodecannese.
21 Jul. 1941 - Sinks the Italian sailing vessel San Nicola (21 GRT) with gunfire 4 miles NW of Rhodes.
22 Jul. 1941 - Sinks a sailing vessel with gunfire off Castelorizzo.
27 Jul. 1941 - Returns from first patrol after a total of 216 hours submerged and 138 hours surfaced.
5 Nov. 1941 - Begins second wartime patrol north of Crete.
10 Nov. 1941 - On the way to Malta for engine repairs, Glafkos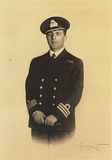 torpedoes and damages the German merchant Norburg (2392 GRT) off Suda Bay, Crete.
19 Nov. 1941 - Due to urgent need for repair, Glafkos arrives in Malta ending the second patrol after a total of 158 hours submerged and 169 hours surfaced.
1 Dec. 1941 - One of Glafkos's crew, Vasilios Merlin, loses his life while in training with British submarine HMS Perseus which sinks off Otranto.
27 Feb. 1942 - V. Arslanoglou and Ioannis Kostakos are the two casualties of a German bombing of the harbour of La Valetta, where Glafkos undergoes repairs. A. Daniolos takes command of the submarine.
4 Apr. 1942 - Sinks by German bombers in the Harbour of La Valetta. No casualties. The crew is transfered to Alexandria aboard Y-3 Proteus.



Specifications
Y-6 Glafkos submarine of the Proteus class
Cost: £119,000 each submarine of the class
Displacement: Surfaced 750 tons, Submerged 960 tons
Length: 68.6 m
Beam: 5.73 m
Draft: 4.18 m
Propulsion: 2-shaft Sulzer diesels plus 2 electric motors, 1420bhp/1200shp
Complement: 41
Max. Dive: 80 m
Speed: (Surf.) 14 knots, (Subm.) 9.5 knots
Range: (Surf.) 4,000 nm @ 10 knots, (Subm.) 100 nm @ 5 knots
Fuel: 105 tons of oil
Armament: 100mm gun at the forward end of the conning tower, at casing level (150 shells) and one 40mm. No external tubes. 8x 533mm torpedo tubes (6 bow, 2 stern; 8 torpedoes)


For gamers and game designers
With only two wartime patrols, Glafkos was the least active of the four Proteus-class submarines. In 1941, it was obsolete by the standards of the major powers, but still dangerous with the 8 torpedo tubes.
For modellers